Prices of food commodities in wholesale markets and supermarkets across Ho Chi Minh City are seeing a fall in prices of late, due to abundant supply.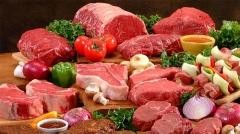 File photo
Pork price has dropped by VND5, 000-7,000 per kilogram to cost VND60, 000-61,000 per kilogram in Binh Dien Wholesale Market of Binh Chanh District.
The volume of seafood selling at Binh Dien Wholesale Market has increased to 700 tons per night, an increase of 5 percent compared to previous days.
Keo fish is selling at VND80,000 per kilogram, a decrease of 50 percent compared to the last two months.
Prices of many other foods including dieu hong fish, sugpo prawn, and eggs have also dropped.
At Pham Van Hai Market, price of pork decreased by VND10, 000 per kilogram to cost VND100,000 per kilogram.
Prices of vegetables like lettuce, bitter gourd and cucumber decreased by VND1, 000 – 4,000 per kilogram. Dragon fruit is selling at VND4, 000 – 6,000 per kilogram, rambutan at VND6, 000 per kilogram and water melon at VND8, 000 per kilogram.