The Orbis Flying Eye Hospital and its international medical team examined and operated on Vietnamese people for free, and even did three cornea transplants, on board the specially equipped plane on Tuesday.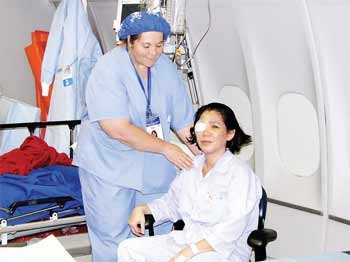 Nurse Anita (standing) takes care of Luong To Nu, who has just undergone cornea transplant on April 8
Orbis' ophthalmologists had brought the corneas with them for the transplant surgery, which normally costs US$10,000 per operation, and will do two more free transplants before they leave Viet Nam.
The operations were observed by 250 Vietnamese eye doctors keen to hone their skills.
Before they leave Vietnam this time, the foreign doctors will have treated 70 local people either aboard the Orbis plane or at the Ho Chi Minh City Eye Hospital at a total cost to Orbis International of US$375,000.
Orbis International is a non-profit humanitarian organization that provides medical treatment and training programs around the world.