She was speaking at the council's extraordinary meeting on environment and waste management attended by Mr. Nguyen Thien Nhan, secretary of the city Party Committee and Mr. Nguyen Thanh Phong, chairman of the People's Committee.
According to Ms. Tam, the city's political system has made efforts to implement the Environmental Protection Law and focus on many solutions to improve environment quality with certain results such as tree area increase and some canal cleanup.
Still, environmental pollution has still been worrying and affected the life of residents.
Director of the Department of Natural Resources and Environment Nguyen Toan Thang, said that the city has an entangled canal system receiving wastewater from production, trading, services and household activities.
At present, the total water supply for use in the city approximates 1.85 million cubic meters a day, comprising 1.2 million tap water and 650,000 underground water, equivalent to 1.75 million cubic meters of wastewater a day.
Air and noise pollution has been caused by nearly eight million vehicles comprising automobiles, motorbikes and factory fume from 839 businesses in industrial parks and export processing zones.
In addition, 2,417-3,368 cubic meters of mud waste are discharged from water and wastewater treatment plants, water supply system and canal dredging a day. Urban solid waste has been littered indiscriminately in public areas and empty land parcels and canals in some parts of the city. The volume of debris from construction sites reach 1,200-1,600 tons a day.

Over 2,000 large factories and about 10,000 medium and small production establishments release 1,500-2,000 tons of industrial waste a day. Of these, toxic waste approximates 350-400 tons a day.
Toxic medical waste is 22 tons a day from over 6,000 public and private hospitals and health clinics.
Despite the huge waste discharge volume, treatment operations have been limited.
Deputy chairman of the city People's Committee Le Van Khoa said that garbage collection and sweeping activities have been overlapped between the transport industry and natural resource and environment industry. On the same road, the transport industry is responsible for cleaning up areas near technical infrastructure works and local authorities in charge of the remaining areas.
Since last yearend, the city has tasked Districts 1, 3 and 5 to undertake the work. In the upcoming time, the city will organize conferences to learn from experiences before widely implementing the program in the entire city.
Garbage transport has been conducted by 16 public service companies in districts who transport garbage to Da Phuoc landfill site in Binh Chanh district. Eight districts transport garbage to Tay Bac area, Cu Chi district. The garbage transport has overloaded traffic system and polluted the environment.
The city People's Committee has assigned the Department of Natural Resources and Environment to work with relevant sides to recalculate the garbage transport volume and time, reconsider the quality of garbage trucks to minimize negative influences on traffic and environment.
Advanced technologies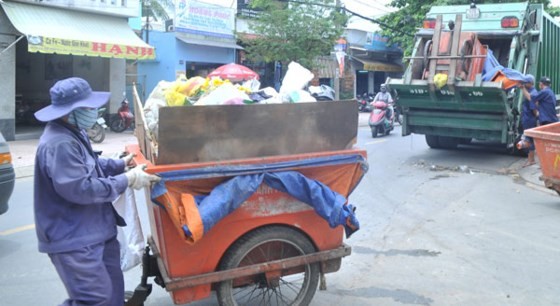 Garbage collection in District 8, HCMC (Photo: SGGP)

At the meeting, deputies of the city People's Council proposed the city to reconsider the efficiency of environmental protection works.
Deputy Vu Thanh Luan said that the entire political system must join hands, synchronously coordinate together to speed up propaganda to raise residents' awareness of environmental protection, apply strict sanctions on those collecting garbage not in accordance with regulation.

He suggested investing in modern equipment and technologies to make sure that garbage transport will not cause the environmental pollution, having mechanisms encouraging residents to classify garbage. For instance, households well carrying out the program will enjoy garbage collection fee reduction.
In the angle of urban management, many deputies said that residential area planning should leave room for stations to receive and transit garbage. In fact, some urban development projects have not counted the matter, putting pressure on the existing overloaded stations.
Moreover, garbage collection fee should meet environmental protection requirements as the current price of VND20,000 a household and VND60,000 a business household has been outdated.
In response to deputies' statements, Mr. Le Van Khoa said that the city People's Committee has worked with Urban Environment One Member Limited Company, Vietnam Solid Waste Treatment Company, Tam Sinh Nghia Company and Vietstar Company to renew waste treatment technologies.
Concluding the meeting, chairwoman Nguyen Thi Quyet Tam proposed the city People's Committee to have feasible plans to practice environmental protection resolution approved by the city People's Council at the meeting, implement garbage classification at households and organizations in a reasonable roadmap and scientifically transport garbage to prevent pollution.
Waste treatment should be equipped with modern technologies and implemented synchronously with socioeconomic development plans and climate change adaption, she added.