Over 500 businesses from 24 countries and territories are taking part in the Vietnam Saigon Textile and Garment Industry Expo (Saigon Tex 2014), opened in Ho Chi Minh City on April 10.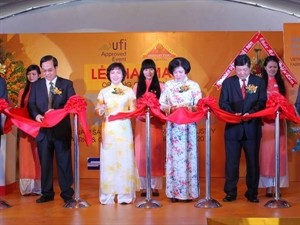 Officials cut the ribbon to open the event (Photo: VNA)
According to the organising board, the number of foreign enterprises at this year's event is around 10 percent higher than that of 2013. Notably, 283 of them come from China.
Machinery and garment accessories are of interest at Saigon Tex 2014, it said.
Within the four-day annual event, an array of activities will take place, for example a workshop on the prospects of the industry once the Trans-Pacific Partnership agreement is signed or another on a free trade agreement between the EU and Vietnam.
Deputy Minister of Industry and Trade Ho Thi Kim Thoa said as an important economic sector, Vietnam's textiles and garments earned more than 20 billion USD in export revenue in 2013.
She added that Saigon Tex 2014 will continue providing a platform for domestic and foreign businesses to exchange experience and technology as well as seek new partners.
Vice Chairwoman of the HCM City People's Committee Nguyen Thi Hong noted that in the first quarter of 2014, Vietnam's textile and garments industry witnessed a growth rate of 40 percent, while fabric and apparel accessories also spiralled 41 percent on a year-on-year basis.
Her city pledges to create best possible conditions for enterprises to invest in the sector, the official said.