The East-West Highway is a lifeline road in Ho Chi Minh City as it facilitates travel between HCMC and fringe cities, and push up socioeconomic development of the city.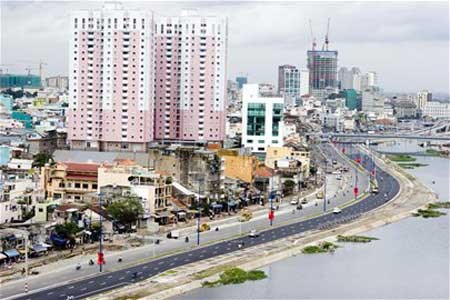 The East-West Highway across Ho Chi Minh City
The road connects the city's eastern and western parts, allowing vehicles traveling from Saigon Port to the Mekong Delta and southeastern provinces to bypass the city center.
The highway also plays an important role in the development of new urban centers in the city's eastern and southern regions, and helps improve infrastructure, scenery, and livelihood for residents.
The highway offers development opportunities for HCMC's outskirts as it will shorten the distance to the city center.
Le Cong Tuong, a resident from Binh Tan District, said it always took him an extra hour to go to District 1 because he had to go through congested roads in District 6.
Now with the highway, he can go directly to District 1 in less time, he added.
When construction of the road will be finished by the end of this year, it will take only few minutes to travel from District 2 to 1 while it took about 20 minutes by ferry, and will take 45 minutes to go to southern provinces while it now takes more than an hour due to traffic jam.
Luong Minh Phuc, director of the East-West Highway project's management board, said the highway will help reduce traffic overload in 1, 4, 5, 6, 8, Binh Tan and Binh Chanh districts.
The construction of the nearly 22-kilometer highway started in 2005. The road passes through eight inner-city and outlying districts.
The project is invested with over US$660 million, or VND9.9 trillion, with around 65 percent funded by the Japan Bank for International Cooperation. Vietnam provided 35 percent of the capital to serve site clearance and compensation for households and agencies affected by the project.
The project management unit expects to finish the remaining section of the highway this year, including the Thu Thiem Tunnel under the Saigon River and a road section through District 2 to connect the tunnel with the Hanoi Highway.