A medium rainfall at the beginning of the rainy season flooded several streets in Ho Chi Minh City on afternoon of May 1.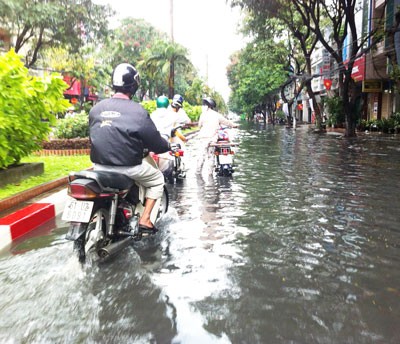 Rains caused severe flooding in several streets in HCMC on May 1 (Photo: SGGP)
Within fifteen minutes of the rainfall, the streets began to be submerged under water with some of it even flowing into people's homes and restaurants along Bau Cat in Tan Binh District.
Many motorcycles suffered engine failure along Dong Den, Au Co, Bau Cat and Bau Cat 1 Streets.
Dong Den Street was inundated completely and water levels only went down much after the rain abated.  Several people had to stop by motorcycle repair shops frequently before they could move along the 3km road.
Several people even fell off their motorcycles on Au Co Street due to deep flooding.
This heavy flooding was attributed to the ongoing Tan Hoa-Lo Gom clean up project.
The rain came at peak time, when most people were returning home after the holidays, causing severe congestion and traffic jams in several areas of the City.