The Department of Transport (DoT) in Ho Chi Minh City and the city Communist Youth Union yesterday jointly organized a seminar with the participant of HCMC students and the transport sectors on buses travelling. On this occasion, the DoT gave 5,000 bus maps to students gratis.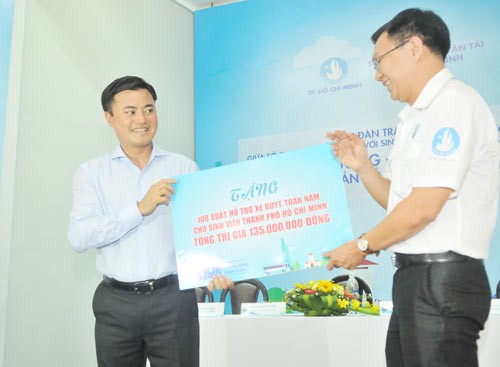 (Photo:SGGP)
The municipal transport sector received the opinion from 300 students of public transport services and the way to improve the public transport.
In the framework of the seminar, some activities including exhibition "Inventiveness with bus"; "Bus and students" Lovely moments" and " Joining hand to create friendly bus" also took place.
To develop public transport bus services, the city authority decided to subsidized bus fare from 2002. After 14 years, by the end of 2015, the city  has formed a bus network with 136 routes including 105 totally partially subsidized routes.
In 2002, around 36.1 million people used public bus service and the number increased to 413.1 million passengers in 2012. Yet from 2013 personal vehicles leaped drastically and infrastructure is not suitable with public vehicles; the number of bus passengers decreased. In 2013, 2014 and 2015 respectively, around 411.2 million; 367 million and 334.5 people transported by bus.