Under the guideline of Ho Chi Minh City authority, management board of flower markets must minimum traffic congestions in the areas of flower market in the city which are gearing up for Tet holidays.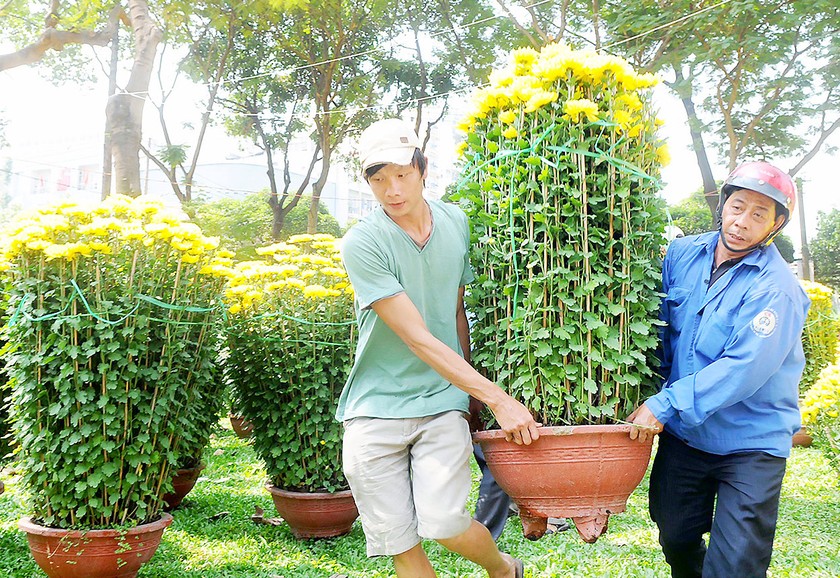 Preparation for flower market (Photo: SGGP)
Local authorities are planned to launch three flower markets which is scheduled to be opened from February 1 to February 12 with spring flowers transported from other regions to the southern hub.
At the city level, the three main flower markets are due to open in the 23-9, Le Van Tam and Gia Dinh parks.

In addition, the city will have other 128 flower spots in districts. Among the selected areas, District 10 will have the most spots, 21. Next areas include Thu Duc District, Can Gio District, District 8, Binh Thanh District and district 7 which will host 19, 18, 13, 10 and 8 such markets respectively. In district 8, flower markets will be officially organized along the dyke of Tran Xuan Soan and Ben Binh Dong canals starting on January 24. Only flowers are sold at the flower markets and the city administration bans all sales of other commodities such as clothes, household appliances and fruits.

The flower markets are the wholesale markets and customers will flock to the spots to buy spring flowers; therefore traffic congestion is able to occur. Thus, local authorities in these spots must control traffic to ensure traffic safety around the area.

Additionally, local governments must pay attention to sparking lots and clear pavement to curb traffic gridlock around the area of flower markets.
As usual, ships are banned to lay at anchor in harbor to load commodities yet to meet the demand in these special days, ships are allowed to anchor in harbors in districts to load fruits and flowers to markets.

On one side, HCMC authority allowed district administrations to organize many flower markets to facilitate travelling and reduce risk of traffic jams. On the other side, the city authority asked district administrations to issue severe illegal flower markets and liaise with bureaus of transport to control traffic order.

This year the Lunar New Year falls on February 8, with celebratory preparations and festivities customarily ongoing one week before the date.