Deputy Minister of Industry and Trade Ho Thi Kim Thoa yesterday worked with the HCMC People's Committee on the city's preparation of food, foodstuff and other necessary items for the coming Tet Holiday.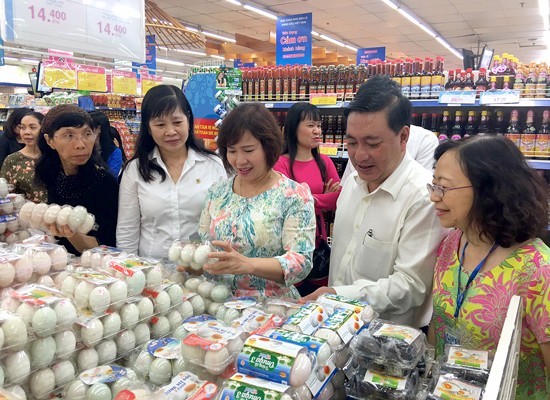 Deputy Minister of Industry and Trade Ho Thi Kim Thoa (3rd, R) inspects Tet goods preparation at Co.op Mart supermarket in Dinh Tien Hoang street, HCMC (Photo: SGGP)
At the meeting, director of the HCMC Department of Industry and Trade Pham Thanh Kien affirmed abundant goods supply for the Tet festival. The city will implement a slew of synchronous solutions to ensure supply-demand balance, food safety and hygiene and price stabilization.
According to the department, purchasing power is forecast to highly increase right after the Western New Year which will come a month before the Lunar New Year. Prepared goods volume will hike about 25-45 percent compared to the last Tet Festival and exceed the city's assigned target by 15-20 percent.
The total value of goods stockpiled by businesses for two months before and after the Tet Festival will top VND17 trillion (US$750 million), 5.3 percent higher than the same period last year. Of these, VND7 trillion will be spent on subsidized commodities.
The most prepared items include poultry with supply able to meet 59.6 percent of market demand, sugar 43.4 percent, chicken eggs 48 percent, processed food 38.3 percent, pork and beef 35.5 percent, cooking oil 34.5 percent and rice 33.3 percent.
Beer and beverage consumption is forecast to approximate 40 million and 45 million liters per month in the Tet season, up about 30 percent over normal months. Confectionary will reach 18,000 tons. Businesses will introduce many new products with good designs and quality and the output increase of 10-20 percent.
Market surveys by the HCMC Department of Industry and Trade show that businesses have completed over 80 percent of their Tet plans with abundant and diversified goods.
Deputy director of Saigon Co.op Nguyen Thi Thanh Thuy said that the supermarket chain has completed its plan to prepare 110,000 tons of goods worth VND3 trillion for three months before and after the Tet. Major items include beer, beverage, fruits and vegetables.

Deputy director of Saigon Trading Corporation Nguyen Phuc Khoa said that the company had stockpiled 21,300 tons of commodities worth VND1,590 billion for the festival. Besides subsidized items such as rice, beef and pork, processed foods, sugar, cooking oil, the company has also stored beer, beverage, confectionary and fresh food.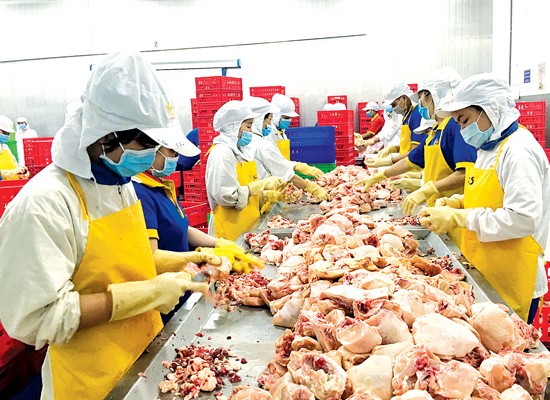 Workers cut up chicken at Ba Huan Company in Long An province (Photo: SGGP)
Ba Huan Company has prepared 40 million eggs, up 30 percent over the same period last year.
Mr. Nguyen Loc An, deputy head of the Domestic Market Agency under the Ministry of Industry and Trade, said that petrol price might move up in two months before Tet holidays because of many countries' purchase for stockpiling and the US dollar depreciation in the domestic market.
The petrol price hike will result in fare and freight rate increase too, he predicted.
The ministry has assigned HCMC to prepare 1,500 tons of sugar to meet surging demand during the Tet holiday because sugar price is likely to hike by the yearend.
Deputy Minister Ho Thi Kim Thoa appreciated HCMC for its efforts in Tet goods preparations. The market stabilization program of the city has attracted much social attendance and proved efficiency in stabilizing prices and reducing the country's consumer price index. It has been duplicated in 50 provinces and cities.
She noted that the city should keep a close eye on goods supply and demand and prices to prevent any scarcity and price rocketing. In addition, she urged authorized agencies to have plans to inspect and supervise service prices and food safety and hygiene to protect the legitimate rights of citizens and visitors.
Right after the meeting with the HCMC People's Committee, the deputy minister conducted field trips to Co.op Mart Supermarket in Dinh Tien Hoang Street and Vissan Company to see how they have prepared for the Tet.
The HCMC Department of Industry and Trade has worked also with businesses and distributors to organize promotional programs and stimulate consumption demand in the Tet festival. They are scheduled to launch 1,500 promotions covering beverage, confectionary and clothes with the total discount of VND1,200 billion (US$53 million).