Consumer spending following the Tet shopping season has slowed down in Ho Chi Minh City as evidenced by reduced sales at many markets and shops.
An SGGP study has found that except a very few supermarkets that have maintained their sales, traders at many markets have not been finding enough buyers over the last few days.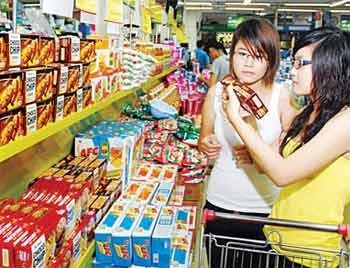 Shoppers at a supermarket in HCMC. Consumer spending has recently slowed down in the city as evidenced by reduced sales at many markets and shops. (Photo: SGGP)
Dinh Thi Kim Cuc, director of Phuoc Thinh Nhom Co., a producer of aluminium products, told SGGP that her company's sales on the fourth and fifth day of the first lunar month in previous years was up to 70 million (US$3,680), but this year it plummeted to as little as VND2 million.
Many clothing and footwear shops also said they have temporarily suspended their business due to a lack of sales.
The decline in consumer spending has led to a reduction in prices of many commodities. Currently, except vegetables, the prices of other essential goods, including meat, rice and processed goods are lower than the corresponding period last year.
For instance, poultry meat is currently sold at VND6,000-7,000 per kg lower than its cost, since consumer spending on food has declined remarkably, traders said.
Experts said that the decline in many consumer goods prices does benefit consumers, but livestock breeders and traders are suffering the burden of increased costs.
It is likely that the main reason for reduced spending is that consumers have tended to cut down on daily expenses in anticipation of the increase in electricity, water, and LPG prices starting March 1, which will directly affect the prices of a series of consumer goods, they added.
Bui Hanh Thu, deputy general director of Saigon Co.op, said sales at her retail chain in recent days were not lower than a year earlier, but warned that in the face of such an increase in utility and fuel prices, it is inevitable that consumers tighten their belts.
Thu predicted that consumer spending on fresh food and industrial products this year would increase by 30-40 percent while that on clothes, home appliances, cosmetics and footwear will reduce by the same rate.
She also noted that products that meet regulations of food hygiene and safety and are priced reasonably, especially those produced by prestigious manufacturers, would be preferred by consumers.

LPG prices up VND4,000-8,000
Many LPG retailers announced an increase in prices yesterday, March 1.
The price of LPG sold by Saigon Petro Gas and MT Gas has increased by VND4,000 per 12kg cylinder, while that of other producers like Saigon Gas, Total Gas and Elf Gas have risen by between VND4,000 and VND8,000.
Retail prices of LPG in Ho Chi Minh City are VND275,000-279,000 per 12kg cylinder.
Although the world price of LPG for March has declined by US$12.5 per ton to $722 per ton, domestic prices have increased because the State Bank of Vietnam has devalued the dong by 3.36 percent from February 11, LPG importers have said.