Mr. Le Hoang Quan, Chairman of the HCMC People's Committee, has issued instructions on the prevention of corruption and waste in the management of real estate in the city.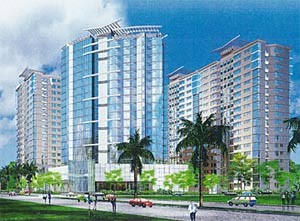 An artist's impression of Sky Garden 3, a house developing project in HCMC
The Department of Construction, Department of Resources and the Environment and the Department of Planning and Architecture have been directed to check the rate of building progress of housing development projects in the city.

The three departments have also been requested to give advice to the People's Committee on the issuing of regulations on the standards for high-grade apartments.

The City People's Council urged the People's Xommittee of 24 districts in the city to strengthen their management in the use of land in their localities and to report any problems to the city's relevant authorities.

The relevant authorities are also required to consider residents' letters of complaint about cases of corruption and waste in order that appropriate measures will be taken against them.