Deputies from HCM City's People's Council met with residents to report the results of its 16th session last week.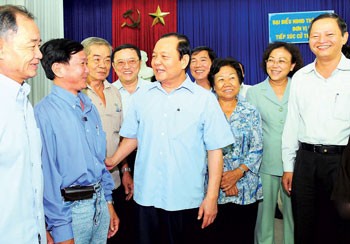 Secretary of the HCMC Party Committee and Politburo member Le Thanh Hai (C) mets people in district 5
A council delegation, led by the secretary of the HCMC Party Committee and Politburo member, Le Thanh Hai, and included deputies Nguyen Quoc Hung, Vuong Phan Kim and Tang Cam Vinh, gave a report to 300 representatives of District 5 on July 16.
The district authority proposed that the city government consider environmental pollution, flood-damaged roads and standards of the cultural quarter.
Mr Hai said that a flood prevention project, worth VND12,000 billion has been approved by the Prime Minister.
He also encouraged the district to increase the number of trees on pavements, terraces of buildings and in parks, and take an important role in the social-economy development of the city.
On the same day, another council delegation, led by the chairman of the city's People's Committee, Le Hoang Quan, and deputies Phan Hieu Nghia, Nguyen Van Hiep and Le Van Trung, met with 300 people in District 11.
Keeping order and security on Hoa Hao Street, moving firms and companies that cause serious pollution to the environment, reoccurring flooding on Lanh Binh Thang road and smelly garbage collection dumpers were discussed at the meeting.
The city's chairman asked the district government to draw up measures for these problems and report to him as soon as possible.


Related articles:
City needs to act to meet GDP target
Official clears up treatment facility costs
City spells out measures for economic growth
City legislators haul department chiefs over the coals
16th session of HCMC People's Council Opens
Deputies seek questions at session of HCM City People's Council
16th session of city's People's Council to open