Ho Chi Minh City's gross domestic product (GDP) for the first three quarters is put at VND155.6 billion (US$9.7 million), a year-on-year increase of 11.7 percent and its best growth in four years.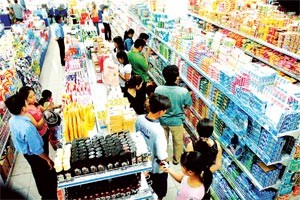 HCMC's retail sales thrive in the first three quarters
Most of the city's economic sectors thrived in the period.

Exports grew by the same 11.7 percent to US$4.4 billion, and tourism revenue was up 40 percent to VND15.5 billion (US$968.7 million), or 79 percent of the 2007 target. 
 
Retail sales and services grew 27.1 to VND117.8 trillion (US$7.3 billion), with retail trading up by 29.6 percent and the restaurant and hotel business by 38.2 percent.
 
Tax revenue in the period was VND61.8 trillion, up 32 percent from last year and equal to 79.2 percent of the 2007 target.
 
At a recent meeting to review the city's economic performance, People's Committee chairman Le Hoang Quan urged the relevant departments and other state agencies to step up administrative reform and so help realize the GDP growth target of 12.2 – 12.5 percent.