Ho Chi Minh City will "place orders" with the city's National University to resolve hot issues relating to planning, environment, urban traffic, water supply, drainage, and key scientific fields, said city Party leader Le Thanh Hai.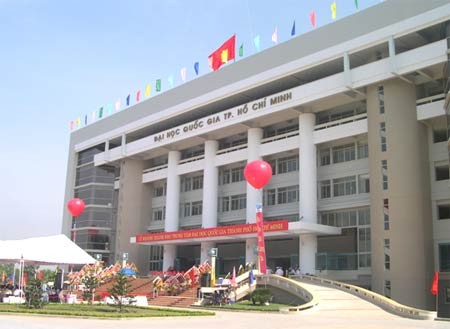 A view of the Ho Chi Minh City National University
He made the statement August 7 at the fourth Congress held by the university's Party Committee for the 2010-2015 term.

Speaking at the event, Mr. Hai, member of the Politburo and Secretary of the city Party Committee, said the university needs to focus on studying measures that will help facilitate the performance of its functions and propose them to the Government, ministries and agencies.

The university has to achieve its target of playing a key role in the country's education system by 2015, he said, adding that it has to make more contributions to building the city into a socialist, civilized and modern city.

The city party leader said the university's Party committee has to be developed in terms of politics, and firm and unblemished political thought, to become a key political leader capable of directing, developing and implementing the university's tasks effectively and to effectively implement Party and government policies.

On the same day, the Party Committee of the city's District 3 held its congress as well, with participation of deputy secretary of the city Party Committee Nguyen Van Dua.

Speaking at the congress, Mr Dua said that because the district is located in the city's center, it needs to define its advantages and resources clearly, in order to formulate plans and then mobilize and exploit them.

The district has to plant more trees and develop the Nhieu Loc canal into an urban landscape axis, he added.

Mr. Dua said the district has to tackle issues relating to environment hygiene, orders on roadbeds and roadsides, and the provision of services that might lead to crimes, in order to ensure healthy, safe and a culturally civilized living environment for the district's residents.