The Department of Construction in Ho Chi Minh City will submit to the City People's Committee a proposal of ten-year- low -interest- loans for homebuyers, said the department's director Tran Trong Tuan.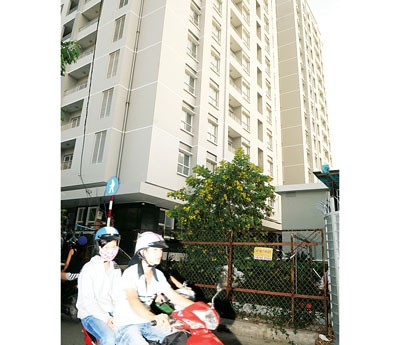 Buyers of social housing apartments may have access to low interest loans (Photo: SGGP)
Mr. Tuan said the proposal will be put forward at a meeting on April 2, in which measures to solve the present difficulties in the real estate market will be discussed.
The Department will suggest that the City implement a pilot project to convert commercial houses, priced at less than VND12 million (US$573) a square meter, into social houses so as to help low income groups to purchase houses and investors to clear stocks.
 
The Department has received applications from 703 civil servants and those serving in the military and police forces to buy social houses, of which, 255 have been approved.
Those already meeting the requirements to buy social houses are expected to receive their houses from the Construction Department by April 30.
At present, the Department has received 15 applications from investors who want to convert their commercial projects into social houses. These projects are under construction but temporarily halted due to capital shortage.