Cooperatives have mushroomed of late in suburban districts of Ho Chi Minh City for agricultural production such as growing of safe vegetables, aqua products, ornamental plants and other farming.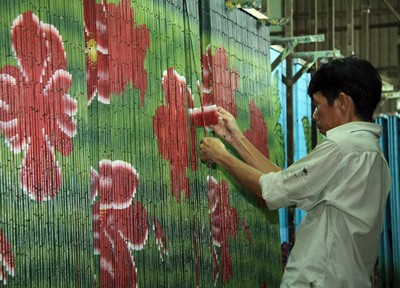 A worker at Thanh Truc Cooperative in Cu Chi District making a bamboo curtain (Photo: SGGP)
Some outstanding cooperatives like Tho Viet and Phu Loc have signed contracts to export to the United Arab Emirates (UAE) and Malaysia.
Le Manh Ha, Deputy Chairman of the HCMC People's Committee, said only 35 percent of cooperatives operate effectively and 10 percent are still finishing procedures.
Four difficulties that cooperatives are facing currently are capital, human resources, land, and product consumption.
Managers in cooperatives with high education increased to 43 percent, while 11 percent enrolled in three year programs at colleges and 24 percent at technical institutes.
None of the graduates, however, accept work in cooperatives despite attractive policies.
The City has many preferential policies for cooperatives yet there exist barriers in accessing capital. For instance, Decree No. 41 stipulates providing a maximum of VND500 million for each cooperative; accordingly, the state-run bank in HCMC petitioned the Central Bank to raise the amount to 70 percent of the registered capital.
In addition, banks provide training on how to write a project report which most cooperatives are weak at. Consequently, none of them are given capital.