Ho Chi Minh City creates nearly 6,000 tons of household garbage everyday. In the near future, this will increase by ten percent. As such, the cost of waste treatment is going to rise and become a serious economic burden.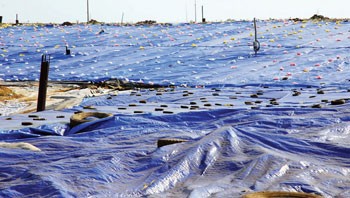 Phuoc Hiep garbage treatment facility
The city had four garbage dumps, including Dong Thanh in Hoc Mon District, Go Cat in Binh Tan District, Da Phuoc in Binh Chanh District and Phuoc Hiep in Cu Chi District, but recently closed garbage dumps in Dong Thanh and Go Cat, as they simply could not take any more trash.
Each day some 6,000 tons of the city's solid waste is therefore dumped in Phuoc Hiep and Da Phuoc.
Dao Anh Kiet, director of the city's Department of Natural Resources and Environment, said the cost of garbage treatment is US$20 per ton in Phuoc Hiep and $16.4 in Da Phuoc.
Therefore the city must spend more than $100,000 for the treatment of 6,000 tons of household garbage.
From 2,000, the municipal authorities has called investors to built garbage treatment facilities.
Da Phuoc garbage treatment facility, covering an area of 128 hectares, cost $90 million to build and will receive and treat garbage for 50 years.
There are also nearly ten companies that have invested hundreds billions of dong to build treatment facilities, these are expected to be put into operation by 2010.
They will help the city to treat trash effectively and hopefully reduce the amount of money spent on building garbage dumps.
Large amounts of garbage will also be recycled and landfill space saved.
Dr. Nguyen Trung Viet, head of the city's Management of Solid Waste, stressed that the city also spend thousands of billions of dong to treat household wastewater and mud from the city's main drains.
The cost of this alone will increase as the city continues to grow.