Flower shops in Ho Chi Minh City are being flooded with customers these days, wanting to buy all kinds of floral arrangements on occasion of International Women's Day, on March 8.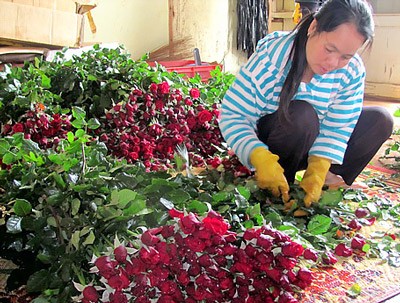 A florist preparing roses to sell in City shops. (Photo: Sggp)
Even though flower prices have increased by 10-15 per cent on this special occasion, in places like Ho Thi Ky flower market in District 10, city customers are undeterred with the high costs.
Several kinds of cactuses, orchids, tulips and lilies are attracting more people because they have a longer life-span in the vase, said a flower expert at the Son Trang Shop on Tran Cong Danh Street in District 5.
Well-known Jewellery enterprises such as PNJ, SJC, DOJI, SBJ also launched their latest collections of rings, bracelets, necklaces and earrings worth tens of thousands of million VND, on occasion of International Women's Day.
On the other hand, functional and healthy foods, cooking utensils and home appliances were also items being picked up by a different set of customers.
Many shops, supermarkets and entertainment areas in Ho Chi Minh City have launched big promotional campaigns on International Women's Day.
Consumers will receive lottery tickets for products by Thai Tuan Textile & Garment Company.
Zen Plaza offers a discount of 50 per cent for many items from the first to the 4th floor.
PNJ Jewellery Company, Viet Thy fashion, Nhut Luan silk shop, underwear brand names like Triumph, Wacoal, Vera Winn have reduced their prices by 10-50 per cent.
International brands such as ELLE and The Face Shop are also offering very attractive programmes.