According to the Ministry of Industry and Trade, in the month of August alone total retail turnover and earnings from services was an estimated VND190.3 trillion, an increase of 0.7 percent compared to the previous month, and 12.4 percent over the same period last year.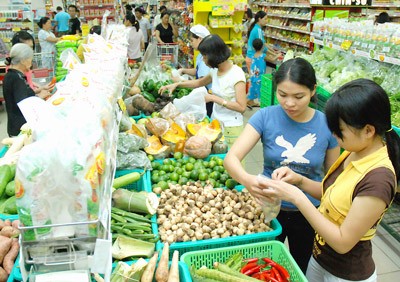 Customers buy foods at a supermarket. (Photo: SGGP)
Total retail turnover and revenue from services reached VND1,517.7 trillion in the first eight months of this year, up 17.9 percent year-on-year. Excluding the price increase factor, total retail turnover and revenues from services in the first eight months of this year rose by 6.8 percent year-on-year.
In Ho Chi Minh City, after 10 days of the 'Sale Promotion Month' campaign, purchase power showed significant improvement. Purchase power mainly increased in essential commodities, including foods, cosmetics, and clothes.
Co.op Mart Supermarket said that sales of essential commodities grew sharply, not only because of the promotional campaign but also because of demand to stockpile goods to deal with price increase.
Noticeably, while purchase power showed signs of recovery, export turnover fell by 3.8 percent over the previous month to US$9.8 billion in August as crude oil exports dropped 369,000 tons and prices of some farm produce declined. Export turnover was estimated at more than $73.3 billion in the first eight months, up 17.8 percent compared to the same period last year.