At a meeting with the Ho Chi Minh City People's Committee on July 1, most representatives from Government ministries, departments and districts agreed to stop Saturday working hours at most state agencies.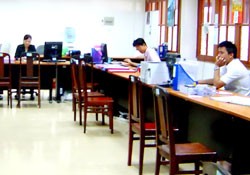 Civil servants wait residents at the HCMC's Construction Department on a Saturday morning. (Photo: SGGP)
One of the main reasons cited is that Saturday working hours are considered useless and wasteful.
However, there were many that opposed the idea.
The Ho Chi Minh City Department of Internal Affairs proposed extending working hours during the week instead of working on Saturday mornings.
Discussing waste, a representative from Can Gio District said the total number of documents received from citizens on Saturday was just three to nine percent compared to an average week day.
The number of phone calls received or document resolutions were also negligible on Saturday.
The "unnecessary" opening day adds to district civil salary budgets, at an extra VND48 million per district per month, and VND107 million for seven communes and towns in the Can Gio District, he added.
Thai Thi Du, chairwoman of the Tan Binh District People's Committee, confirmed no residents came to state agencies on Saturday, meanwhile the district committee must maintain 30 civil servants and 15 cadres per ward.
However, this may be due to the number of administration documents which can not be dealt with on a Saturday, said Le Hoai Trung deputy director of the city's Department of the Interior.
He said a number of agencies would not receive documents on Saturday, such as land or construction documents.
Despite this, the department was firm in suggesting that the city government allow some offices to stop the extra hours this month, even before central authorities reached a final decision on the matter.
Such offices should include the Southern Zone Management Board, the Fire Department, the Department of External Relations and the investment license section at the Department of Planning and Investment, as these offices received close to no traffic on Saturdays, said the department.

Su Ngoc Anh deputy chairwoman of the District 5 People's Committee said Saturday working hours should not be completely stopped at every office.

She said the weekend hours should be maintained at certain offices where there was high demand, including the city's Police Department, Treasury and customs and tax agencies.
She said no residents visit the district People's Committee but the district still has work to do.
Improving efficiency through the week
Apart from agreeing to stop working on Saturday, some officials proposed to maintain work as usual until week day work is improved.
Mai Luong Khoi, deputy director of the city's Department of Justice, said Saturday work should be maintained at judicial offices.
He also said state notary public offices needed to improve their services in order to compete with private notarization services.
He added the notary public services needed the Saturday hours, as they often took care of work related to banking activities and banks, which also work on Saturday mornings.
Mr Khoi said his department also needed to prioritize and take care of assignments in a more rational manner.
He said the department could start by assigning fewer staff to work on less-busy Saturdays, as it only received 20 percent of its normal daily workload on that day.
Saturday working hours will be help to prevent traffic jams and create advantageous conditions to residents, said the Interior Department.
After listening to the proposals, Nguyen Thanh Tai, deputy chairman of HCMC People's Committee, said state agencies nationwide will implement such ideas.
Although there were many opposing views, it was the Prime Minister's decision so the city will follow what he decides.
The city's Department of Interior will summarize all opinions then submit to the city's municipal council.
The city will submit the proposal to Prime Minister at the end of this month.