Seven years after the launch of Ho Chi Minh City's Nhieu Loc-Thi Nghe environmental hygiene project, progress has been sluggish at best. Now, the Chinese contractor of one of the project's sections has been fired, which will see progress delayed even further.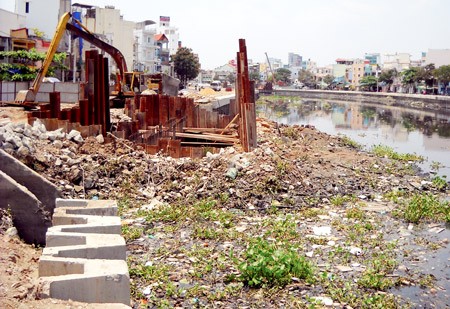 Work on package No.10 of HCMC's Nhieu Loc-Thi Nghe environmental hygiene project has come to a standstill after the Chinese contractor in charge of the package was fired. (Photo:SGGP)
The project's completion depends on the construction of package No.10, which has met with several difficulties over the years.
The HCMC Water Sanitation Project Management Unit (PMU) recently annulled its contract with Chinese firm China State Construction Engineering Corporation (CSCEC), after it was named on a World Bank (WB) corruption blacklist, an official said.
CSCEC was in charge of carrying out the $85 million bid package, and was to complete it by August 2009. As of now, however, only 70 percent of the workload has been finished.
Changing contractors will only slow progress further. As such, the PMU has asked the WB for a new loan deadline, which is now set for September 2011, instead of June 2010.
CSCEC started construction on package No.10 in 2006 with initial capital of US$60 million. It was scheduled for completion in late 2007. However, the project was delayed because the city was late in handing over cleared land, and the project's cost increased to $85 million.

According to PMU Director Phan Hoang Dieu, canceling the contract means that an international bidding process will have to be launched again to find a new contractor.

Ms. Dieu said the new bidding process could take up to six months.

Thus, the project is now expected to finish in 2012, while the WB just agreed to a new loan deadline set for the end of 2011, said Ms. Dieu.

Work on the project, which involves improving drainage in the Nhieu Loc-Thi Nghe canal basin to reduce flooding in the city, began in September 2003.