City authorities are facing stiff resistance while attempting to remove residents of 67 crumbling apartment buildings, as residents refuse the compensation package offered.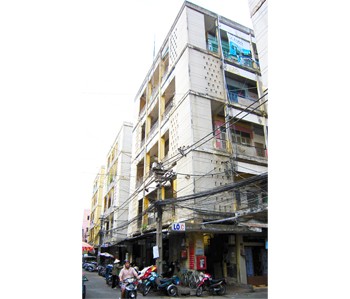 A corner view of Co Giang apartment building in District 1, HCMC (Photo: SGGP)
At present, Ho Chi Minh City has 570 dilapidated tenements constructed before 1975, of which 67 are severely run-down and need rebuilding.
The Co Giang apartment block in District 1 with 5,000 occupants, was built in 1964, and is in danger of collapsing at any moment.
The HCMC People's Committee had instructed District 1 authorities last October to relocate the households to safer properties.
However, several occupants refused to budge, citing insufficient compensation amount or complaining of their new accommodation being too far away from the city centre.
Trinh Thi Kieu Loan, one of the residents of the block, said that the city authorities wanted to relocate them in far off suburban Binh Chanh District, which is too far from the city centre. This would disrupt her entire family life.
According to the Site Clearance and Compensation Committee in District 1, the compensation for those with less than 30 square metres is about VND750 million (US$36,000) per household.
Residents disagree with this amount, calling it unfair. For instance, Dang Ngoc Anh said that his apartment is 23 square metres but he will be compensated the same amount as another having 12 square metres.
With VND750 million, Anh said he will not be able to find an alternate apartment in the same locality which is near to his children's school.
Problems regarding compensation and site clearance are also occurring in several other old apartment blocks in the city.
According to an official from the Department of Construction, the compensation policies of the central government and the city have many shortcomings and need addressing.
On the other hand, it is not easy to up-root people from their old homes and relocate them elsewhere to start life from scratch.
Most residents living in old apartment blocks are poor, and earn their livelihood in nearby city centre areas. Relocating to suburban areas will cause inconvenience for all of them, said the official.