Ho Chi Minh City residents complain that despite the recent completion of several city road works, there looks to be no end in sight to the disruptive projects in 2010.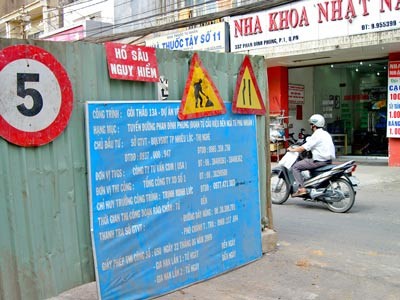 A roadwork on HCMC's Phan Dinh Phung Street. Many city residents are furious with project contractors for failing to adequately resurface roads once works are complete. (Photo: SGGP)
More than 30 kilometers of pavement will be dug up in HCMC this year as part of infrastructure upgrades, leaving locals to deal with the ensuing traffic jams and chaos caused by the works.
Last month, the HCMC Department of Transport told contractors to dismantle barriers surrounding completed works and fill potholes before the February 14 Tet (the lunar New Year) holiday.
The measure was hoped to ease traffic congestion during the busy travel season.
Following Tet, however, several major road works have re-emerged, including ones on Phan Dinh Phung, Le Van Sy, Cach Mang Thang Tam, and Nguyen Kiem streets.
Most of the projects have been commissioned by the HCMC Environment Sanitation Project and are related to the Nhieu Loc-Thi Nghe Canal and its basin, the East-West Highway Project, and the Water Environment Improvement Project.
Minh Trung, owner of a clothing store on Phan Dinh Phung Street, complained that five road works were being carried out on over one kilometer of the street, causing round-the-clock traffic congestion. Moreover, only two of the projects have announced completion dates.
Many residents on Phan Dinh Phung, Le Van Sy, Cach Mang Thang Tam, and Nguyen Kiem streets say they are furious with the poor state of roads and traffic near their homes.
While contractors have dismantled the barriers of completed projects, they have failed to adequately resurface the roads and have been careless about their work, according to locals. As a result, numerous large potholes lie like traps for drivers, especially motorcyclists.
Pham Van Long, an official from the VIC Joint-Venture Construction Company, said many road works are behind schedule due to unexpected issues that have arisen while digging up streets.
For instance, workers had to stop while carrying out a project at the Tran Cao Van-Hai Ba Trung intersection in District 1 after discovering underground water pipes, and electric and telephone cables, which were not indicated on blueprints.
The HCMC Department of Transport has now fined three contractors VND6 million each for lacking licenses, violating safety measures, failing to warn drivers about the works, and using inadequate barriers. A lack of inspectors to crack down on such violations has also contributed to the problem.
As part of efforts to address the issue and improve traffic in HCMC, the Government has approved a project titled "Strengthening personnel and equipment for transport inspectors" with total capital of VND514 billion.
Related article:
HCMC road digging to halt for New Year