Four key industries in Ho Chi Minh City have continued to raise quality of standards and contributed to the City's price subsidized program, despite the ongoing economic crisis.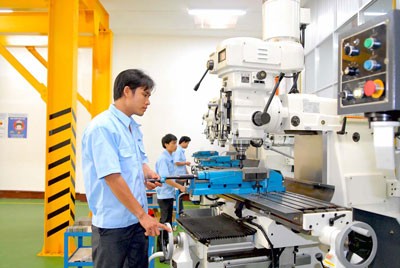 Workers at Saigon Industry Company (Photo: SGGP)
According to the Department of Industry and Trade, the mechanical engineering industry leaped by 13.4 percent in two successive years of 2011 and 2012 and showed an upward trend from 15.3 percent in 2005 to 17.1 percent in 2012.
The mechanical engineering industry accounts for 20-25 percent of industrial growth and is continuing to attract big projects deploying advanced technologies.
Similarly, the chemical industry increased by 8.8 percent in 2011 and 2012 and accounts for 39-45 percent of growth in the country.
New equipment and technologies have been deployed in production of washing-powder, cleaning chemicals, skin lotion and softeners, waterproof paint, dry batteries, heat-resistant paint, bicycles and car tires, which are manufactured not only for domestic markets but also for exports.
Nguyen Van Lai, Director of Department of Industry and Trade, said there have been improvements in electronics-IT industry and food processing. The IT industry accounts for 27 percent of growth in the country with an average growth of 4.6 percent a year in 2011 and 2012.
With good infrastructure, Quang Trung Software Park has attracted many large projects from international corporations like Intel and Nidec. In addition, the City has drawn projects to make solar-powered batteries to replace electric energy in response to energy saving policies.
Before, the food processing industry was outsourcing but it has been revamping steadily since 2006. Accordingly, Vietnamese brands like Vinamilk, Kinh Do, Pham Nguyen, Hanco, Saigon Beer, Vocarimex, Tuong An, Vissan, Ba Huan and Huynh GIa Huynh De have gradually taken control of the local market and exports.