The Ho Chi Minh City People's Committee proposed several measures on Thursday to help tackle the increasing traffic issues within the city. The proposals were heard by the National Assembly's Council for Defense and Security.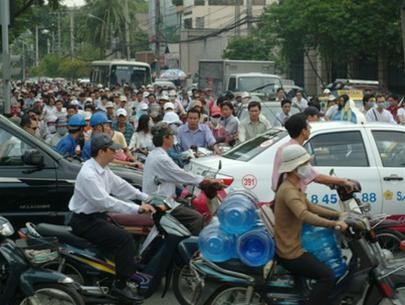 Traffic jam is an irritating problem of Ho Chi Minh City

Among several proposals was the implementation of mandatory road fees, charged from all road users, including cars and motorbikes.
The committee asked that all money collected from drivers later be invested into developing more efficient public transportation. The proposal was approved by the Head of the NA's Council for Defense and Security, Le Quang Binh.

The committee also asked the government to provide money for the construction of an urban railway route, traffic circles, drainage works, and the relocation of sea ports outside of the city (as they were one of the contributing factors to traffic problems).

Mr. Binh replied that the National Assembly will discuss the proposals during its year-end session.

Chairman of the HCMC People's Committee, Le Hoang Quan, said Ho Chi Minh City will focus on resolving its traffic issues, particularly with the traffic infrastructure; to add support, the government should create favorable conditions for investment into the southern hub's traffic and transportation projects.