Businesses in Ho Chi Minh City are already implementing plans to meet the high consumer demand during the last months of the year and for the coming Tet Lunar New Year.
The Department of Industry and Trade in HCMC informed on October 14 that despite economic difficulties and low purchasing power, most businesses are preparing their products for Tet Lunar New Year, and have committed to keeping prices well under control.
A range of essential products, including meat, eggs, processed food, cooking oil and sugar have been stockpiled to meet 50 percent of the market demand.
The department has worked with business associations in the City and neighboring areas to diversify supply sources and kinds of products that will be available to consumers.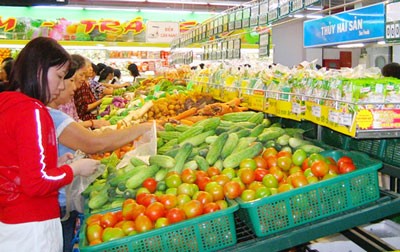 Buying fresh fruits at a supermarket in HCMC (Photo: SGGP)
Some supermarket chains in the City have also cooperated with suppliers and manufacturers to find practical solutions for delivering and transporting goods.
Nguyen Thanh Nhan, deputy director-general of Saigon Co-op, said that consumer confidence on Vietnamese made goods is declining but Vietnamese producers have managed to restore confidence.
During Tet, consumers are interested in food safety and food hygiene and try to avoid expired and fake goods.
Therefore supermarkets are focused on brands which have been trusted for many years; so for new brands to enter markets is bleak.
According to the Department of Industry and Trade, after six months of implementation of the price subsidized program in 2012, Ho Chi Minh City has developed 864 more shops, bringing the total number of shops selling price subsidized goods to 5,230.
In particular, price subsidized food items account for 50 percent of the total sales in 2,687 shops. Many enterprises have focused on developing a broad network such as the Vissan Company, which has a distribution system with 96 outlets.
It is expected that from now until Tet Lunar New Year, HCMC will organize 788 mobile shops to diversify the type of distribution to reach consumers under the price subsidized program.
Shops that have joined the price subsidized program have increased their budget for stockpiling essential goods to nearly VND6.7 trillion, nearly 1.3 billion more than in the same period last year.
For instance, Big C supermarket boosted buying its products from original sources, especially fresh foods such as vegetables, fruits and seafood, in order to ensure good quality and stable supply while reducing 'middlemen' in order to offer customers the best quality and price.
Big C has also offered the cheapest prices for ten essential products, including sugar, fish sauce, rice, eggs, cooking oil, and instant noodles.
Nguyen Thanh Nhan, director of Co-op Mart, said his supermarket is considering proposals for raising prices for their suppliers.
If this is possible, Co-op Mart will try to convince suppliers to share difficulties with consumers, while gradually increasing prices to ensure that most of the essential commodities are always available.