The Steering Committee for Flood and Storm Prevention in Ho Chi Minh City on Thursday instructed relevant departments to prepare measures to cope with possible flooding from high tide and continuous heavy rainfall.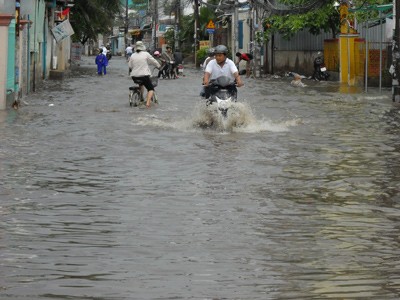 Several streets might continue to remain inundated due to heavy rains in HCMC (Photo: SGGP)
Provinces in the southern region and Ho Chi Minh City have seen continuous rainfall over the last few days due to an Inter-Tropical Convergence Zone.
The rain is expected to further raise the surging tide and submerge more areas in HCMC in the next few days.
In related news, prolonged heavy rainfall triggered a severe landslide along Highway 14C, burying 15 houses in Tuy Duc District in the central highland province of Dak Nong on Thursday.
District authorities have given financial assistance to the above 15 households and relocated them to a new resettlement area.
Rain-triggered landslides also occurred along eight roads in Ky Son District in the central province of Nghe An. Authorized organs have mobilized machinery to clear the fallen debris and reopen sections of the road to vehicular traffic.
Heavy rainfall also caused a mountain landslide in Lao Cai City in the northern region, in which mud and rocks blocked the current of Coc Spring. This has threatened 400 households in the lower reaches of the spring in Ta Phoi Commune.
The city authorities are rushing to remove the soil barricade from the spring and reconnect the water current, besides preparing measures to evacuate residents from danger zones.