The Ho Chi Minh City Police on July 14 nabbed six Indonesians who allegedly tried to rob more than US$20,000 from a car in District 1.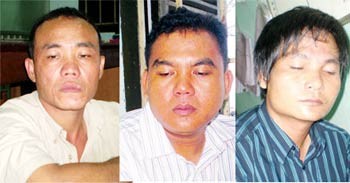 Three of the six Indonesians arrested in HCM City on July 14 for allegedly trying to steal money from a car (Photo: Thanh Nien)
They were caught red-handed and were under police surveillance.
The arrested gave their names as Wahyu Kurniwan, 37, Allen Fredy, 50, Ahmad Suarib, 45, Amah Dahlan, 34, Edy Nassan, 40, and Ibrahim Hasim, 42, the police said.
They had waited outside a bank on Ton Duc Thang Street and followed the car after its occupants had come out of the bank with the money.
When the car stopped at the Tran Hung Dao – Ho Hao Hon traffic signal, one of the men threw nails under the car's rear tire.  
When the vehicle pulled up soon with a flat tire, one of them tried to pry open the car door and grab the money while the others distracted the driver and two passengers by pretending to help change the tire.
When they tried to flee, the police, already on the scene, fired two warning shots in the air. The officers caught six of them in nearby streets, though two others managed to escape. 
They also confessed to carrying out nearly 10 similar robberies earlier.
The police said the men confessed they habitually hung around some major banks on motorcycles, waiting for victims to come out of banks.
The police said three such cases had occurred in the city since June 4 and they are looking into the gang's possible connection with them.