Leaders from Ho Chi Minh City Party Committee on February 24 visited and greeted medical staff and doctors on the 59th anniversary of Vietnam Doctor's Day.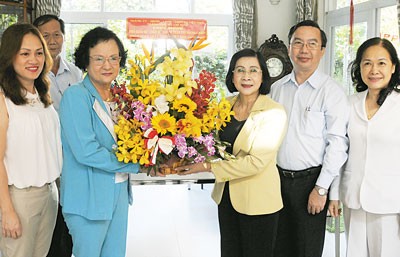 Nguyen Thi Thu Ha (yellow) send flowers to greet Associate Professor Tran Thi Trung Chien, former Health Minister, on the occasion of Vietnam Doctor's Day (Photo: SGGP)
Deputy secretary Nguyen Thi Thu Ha expressed hope for April 30 Hospital to improve development and provide health care to police, soldiers and citizens from neighboring provinces.
Ha also visited former Health Minister Tran Thi Trung Chien and former Deputy Minister Doan Thuy Ba.  She expressed that they would give better care for the residents' health.
Ha also visited and congratulated doctors of Thanh Do International Hospital. 
Nguyen Thi Quyet Tam, deputy secretary of the city Party Committee and chairwoman of the city People's Council, greeted medical staff and doctors at Ear, Nose and Throat Hospital.
Tam asked the city Department of Health to closely work with District 3 to aid the issue of overcrowding in the hospital.
She also gave her regards to doctors at An Sinh Hospital, chemist Truong Vinh—former deputy director of the city Health Department, and Dr. Vo Van Thanh--former head of backbone ward A of the Trauma and Orthopedic Hospital in HCMC.
Than Thi Thu, head of the committee's Department of Propaganda and Training, visited medical staff and doctors at Traditional Medicine Hospital and Saigon Obstetric and Gynecology International Hospital.
Afterwards she arrived at houses of Nguyen Thi Ngoc Anh, former director of the Children Hospital No.1 and Nguyen Thi Ngoc Phuong, former director of Tu Du Hospital. The two doctors had made great contributions in the development of HCMC health industry.