Recycling buried garbage

At the meeting, director general of the company Nguyen Cong Hong put forward a new proposal in which the company will remove all garbage buried at 25 hectare Go Cat dumping site in Binh Tan district and 40 hectare Dong Thanh landfill site in Hoc Mon for recycling and building of green urban areas. The two landfill sites have been closed down for over ten years.
The proposal originates from the company's successful treatment of a 6.7 hectare dumping site with 1.2 million tons of garbage in the northern province of Hai Duong. The company has treated the entire garbage buried in the site which shut down in 2011 and built a green urban area there.
Specifically, the company dug up the buried garbage, used microbiological substance to prevent bad smell and pollution from spreading and then dried up the garbage. Afterwards they classified each type of garbage; organic waste, mud and soil were used for making microbial fertilizer, plastic waste and nylon bags for plastic beads and recycled plastic products while metals for casting. The remaining amount accounting for 40 percent of total were treated in incinerators at the temperature of 1,000 degrees Celsius with thorough dioxin handling.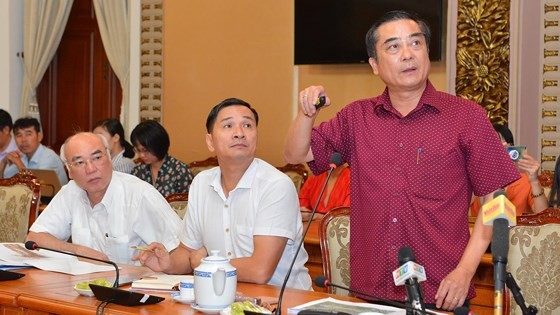 Mr. Nguyen Cong Hong, dỉrector general of TDH Ecoland Company presents the company's proposal to handle landfill sites in HCMC (Photo: SGGP)
Cinder and ash after burning garbage were used for making bricks for underground works. The company also collected and treated leachate meeting standards, water after treating could be used for washing face. The company invited officials from the Ministry of Natural Resources and Environment and the Ministry of Science and Technology to supervise the garbage treatment and they estimated that the process meets environmental standards.
In HCMC, Mr. Hong said that the company has surveyed two landfill sites Go Cat and Dong Thanh and found that pollution has spread from the sites to surrounding areas. In addition, a land parcel neighboring the two landfill sites are used for cattle and pig breeding by some residents.
According to Mr. Hong, garbage is a type of resource which need be salvaged fully. If the company is chosen to treat Go Cat landfill site, it will take advantage of all types of garbage there without leaving anything.
He committed that the company will handle all garbage at the landfill site within two years and build a green urban area on the spot one year later. With mechanism and technologies, it is able to make polluting garbage dumps a resource for HCMC development.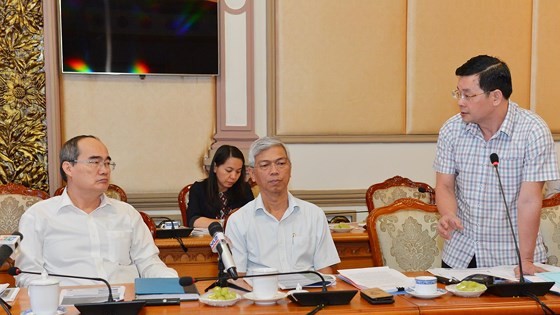 Director of the Department of Natural Resources and Environment Nguyen Toan Thang speaks at the meeting (Photo: SGGP)
Planning landfill sites into urban areas
Director of the Department of Natural Resources and Environment Nguyen Toan Thang emphasized the especially important factor of environmental protection during the process of landfill reclamation.
Meantime, deputy chairman of HCMC People's Committee Vo Van Hoan said that the city administration's awareness of the treatment of landfill sites to exploit land fund must change in a positive direction. The land fund created from handling of garbage dumps can be exploited to build golf courses or houses instead of parks or tree planting only.
Hence, he suggested districts and agencies to propose the way to exploit the land fund after treating the landfill sites. Basing on that, the city People's Committee will adjust the plan of landfill sites to create better socioeconomic efficiency.
Secretary of the HCMC Party Committee Nguyen Thien Nhan said that residents and investors have paid much attention to garbage treatment. The city has determined to transfer from garbage burying into waste to energy. There are big landfill sites with the huge amount garbage being buried for many years. Garbage treatment to prevent further pollution from going on and creating land fund for park and tree development is necessary.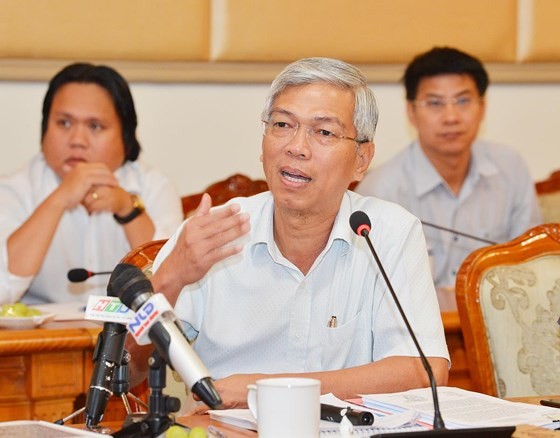 Deputy chairman of HCMC People's Committee Vo Van Hoan states at the meeting (Photo: SGGP)

Welcoming the company's proposal, Mr. Nhan said that implementation of the idea will help the city clear millions of tons of years-long buried garbage and create land fund for urban development.
He suggested the company together with the Department of Natural Resource and Environment to set bidding criteria to select investors to handle landfill sites in the city with the requirement being ensured environmental protection standards as well as feasibility to investors and least costly to the state.
The city should plan the landfill sites and surrounding areas (if necessary) into urban areas, he said.
For a long time, city leaders have met businesses to help them solve difficulties. Still, HCMC is the country's biggest economic hub with over ten million residents and large number of science-technology centers, universities and research institutes. Residents in general and scientists and businesses in particular are a source of initiative contributions for the city development, the city Party Leader added.
HCMC respected initiatives and creativeness by residents, businesses, experts and scientists. When there are initiatives and proposals, at least directors of relevant agencies must listen to and propose mechanisms to promote them, he stressed.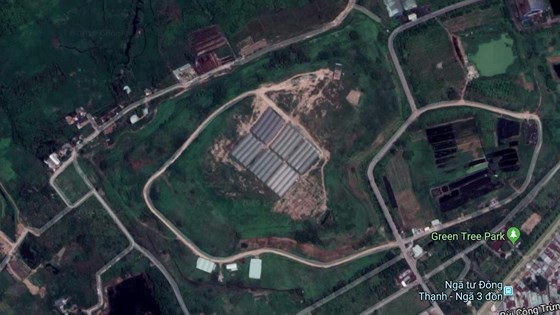 Dong Thanh landfill site, Hoc Mon district, HCMC