Ho Chi Minh City's Department of Natural Resources and Environment has recently outlined an action plan to help the city cope with adverse effects of climate change. The plan, drawn up at the behest of the city's People's Committee, is expected to be put into effect by August.

Apart from the Department of Natural Resources and Environment, seven others including the departments of Transport; Agricultural and Rural Development; Industry and Trade; Science and Technology; Culture, Sports and Information; Planning and Architecture; and Construction will also take part in the implementation of the plan.

Accordingly, the Department of Transport will be responsible for carrying out programs to help cut down the volume of electricity to be used for street lighting and improve public transport to reduce the volume of vehicle emissions.

It will also be entrusted with the tasks of building a better water supply system to help bring down water leakage to 28 percent in 2010 and 24 percent in 2020, as well upgrading the drainage system in the city.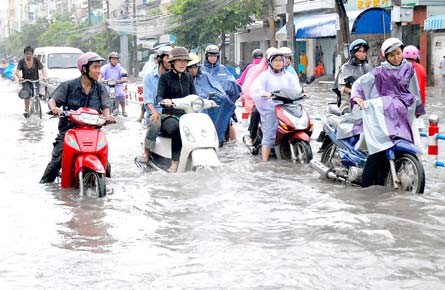 Ho Chi Minh City has faced worse flooding due to climate change  (Photo: Sai Gon Giai Phong)
The Department of Agricultural and Rural Development will be asked to take the lead in carrying our programs related to forest protection and reforestation, and building dykes and upgrading drainage systems in rural areas to prevent damage from floods and tidal flows.

The Department of Industry and Trade will be in charge of launching programs to encourage businesses to use electricity instead of fossil fuels in their production.

It is also responsible for upgrading the electricity grid to help bring the ratio of electricity waste down to seven percent in 2010 and six percent in 2020.

The Department of Science and Technology will study and encourage the use of low-emission materials, recycled materials and green power including solar, wind and tidal energies to step up environmental protection by reducing the impact of climate change.

The Department of Planning and Architecture is entrusted with the task of planning a reasonable construction density in the city to make room for more green parks and ecological zones.

The Department of Construction will take the responsibility for encouraging real estate companies to develop housing projects, under which green apartment buildings will be built to save energy in an effective way.

The Department of Culture, Sports and Information will be responsible for raising public awareness of the importance of an environmental-friendly lifestyle and saving energy and reducing carbon dioxide emissions.

The Department of Natural Resources and Environment is given the task of assessing the impact of rising of sea levels and climate change to the environment, socio-economic development and ecological systems, as well as residents' daily living.

Another task of the department is complete the program to classify garbage by 2020, including building more dumping grounds for urban solid waste, recycling garbage into fertilizer and food for animals to reduce the volume of garbage to be buried under the ground to 50 percent.

It is also requested to raise the city dwellers' awareness of the importance of the benefits of having a clean environment through which they will be encouraged to practice thrift, as this will help reduce consumption and thus reduce garbage.

Dr. Nguyen Trung Viet from the Department of Natural Resources and Environment said that the plan is designed in a way that once it is conducted, it will not affect the socio-economic development of the city.

He emphasized that if the plan is built appropriately, it will be a positive factor that makes significant contribution to the sustainable socio-economic development of the city.

He pointed out that the building of green building apartments will require a large investment at first but will help save energy effectively in the long run.

Likewise, he said, it will be difficult at first to appeal to city residents for using public transport instead of private vehicles for traveling, but once they respond positively, it will help save fuel, reduce environmental pollution and ease traffic congestion.

Dr. Viet added that under the plan, businesses will be required to invest more funds in building waste treatment systems and comply with a series of strict regulations on environmental protection, but their additional production expenses will be trivial compared with benefits gained from having a clean environment for all people living in the city.