By the end of 2009 there will be no more flooding caused by broken river levees in Ho Chi Minh City, a deputy director of the city's agriculture department said on Tuesday.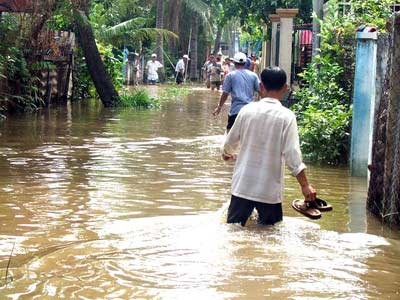 The scene will no longer be seen after the year 2009
Mr. Nguyen Ngoc Cong said the existing levees along the Sai Gon River from District 12 to Cu Chi totaled 65 kilometers in length.
At this stage, one construction project is underway and five are in the pipeline.
Some 700 kilometers of levee will be added in Cu Chi, Hoc Mon, District 12, Thu Duc and Binh Chanh to prevent water from small rivers and channels flooding the land.
The financing is all arranged, according to Mr. Cong, but he worries that the district authorities will be slow to carry out the work, which is their responsibility.
Another problem is the chronic lack of suitable engineers, most notably in Cu Chi District, where only one person is qualified to design levees and oversee their construction.
Despite these concerns, Mr. Cong seems certain that the problem of water flowing from swollen river channels onto the city's farmland and even into the streets will be a thing of the past come the year 2010.
He also revealed that VND137 billion was being spent on levee construction in 2006-2007. A further VND800 billion will be used to concrete over the existing levees in the next couple of years.
Related article:
Broken Levees Worsen Flooding In Ho Chi Minh City