According to a report at the 16th session of HCMC People's Council last week, GDP growth rate for the first six months of the year was just 4.6 percent. It will be difficult to achieve the years' target GDP growth rate of ten percent. To reach it, the city must attain an untenable growth rate of over 15 percent in the last six months.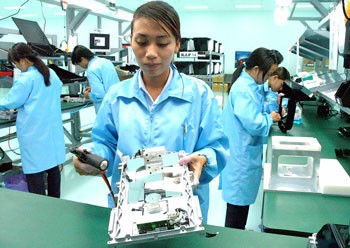 Datalogic Scanning Company's laborers are working.
According to a deputy, Nguyen Ngoc Hoa, the city's leaders should flexibly use sources of capital and check the slow progress of all construction work in order to provide solutions.
Large revenues from advertising on buses could be raised for the city's budget. He has called for the city's government to lift a ban on bus ad placements.
Deputy Nguyen Minh Quang proposed that the city must focus on reforming administrative procedures, solving contradictions between decisions and real solutions, and establishing a special task group to solve policies and mechanisms related to various departments in construction projects and check the progress of work.
The city must look for sensible ways to rearrange the economic structure and raise the quality of people's lives, Deputy Truong Trong Nghia said.
On the other hand, the city's government has to reclaim tens of thousands of square meters of storage, worth tens of billions of dong, and invest it in construction work, such as social housing for workers and students, added Deputy Dang Van Khoa.