Ho Chi Minh City Mobilization Board for the Poor announced they have received nearly VND88 billion (US$4.4 million) from individuals and various organizations since the beginning of the year.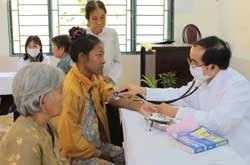 A doctor provides free health checks for poor people in Long Binh Ward, District 9, Ho Chi Minh City (Photo:VNA)
Last year the board had remaining a fund of VND65 billion ($3.25 million), and with this year's collection the city now has a total of more than VND153 billion ($6.75 million).
The City Mobilization Board has spent more than VND100 billion ($5 million) to assist tens of thousands of poor and needy people in the city.
By the end of 2010, over 15,000 impoverished households received aid in uplifting their lives from stark poverty and thereby reducing the number of poor households in HCMC to just 6.6 percent.
325 households in Tan Nhut Commune of Binh Chanh District were uplifted above the poverty line and about 100 other households achieved an income of over VND10 million per capita.
The living conditions of needy and poor people, particularly those living in remote and rural areas have improved considerably thanks to the city policies.