At present, many low-income people in Ho Chi Minh City still cannot afford a house, despite the fact that many programs have been launched to assist with low-cost housing loans. A recent survey conducted at an Asia Commercial Bank (ACB)'s real estate market revealed that over 70 percent of 300 customers questioned cannot afford a house without a bank loan.

These customers said that they prefer long-term loans with tenure up to 20 years and over so that they will not be under too much pressure to repay the debt. Half of them said that they can only afford a house at a price of less than VND 1 billion.

According to Mr. Vo Dinh Quoc, deputy director of ACB's real estate market, VND 1 billion is the current average price of houses on the market; however, houses at this price are becoming scarce and usually have problems involving title deeds.

Recently, in an effort to facilitate low-income people to afford a house, many banks, instead of offering long-term loans with tenure between 10 and 15 years, have decided to extend them up to 20 years or even up to 30 years.

The effort, however, does not really work, according to a high-ranking official of a bank in the city, as low-income people still cannot manage enough money. To facilate a customer to purchase a house at the price of VND 1 billion, a bank can finance a loan of VND 700 million at most, equivalent to 70 percent of the value of the purchased house.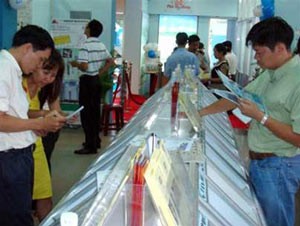 Customers look for necessary information at an ACB's real estate market
If the loan is to be repaid in 20 years, the purchaser will have to repay to the bank around VND 10 million including principal and interest for the first month. Although the amount of monthly repayment will be diminished in the following months until the debt is paid off, it is still an unendurably heavy burden for people earning a low-income.

As a result, most customers who purchase a house via the bank's real estate market are financially well-off or investors, not low-income people at all, added the high-ranking official.

Two years ago, the HMC City Housing Development Fund was founded to give financial support to low-income employees who needed a house. So far, it has offered loans totaling about VND 20 billion to more than 100 public servants. At present, the fund still has VND 280 billion available in its vault.

The fund has proposed a marketing plan to real estate companies whereby any employee who purchases a house sold via these companies will be entitled to a maximum loan amount of VND 300 million from the fund.

According to the real estate companies, however, the marketing plan has turned out to be infeasible as the current price of a low- cost house on the market is not less than VND 700 million. If a customer wishes to purchase such a house, aside from the amount of VND 300 million financed by the loan, the customer has to manage the rest which is really too much for many low-income employees.

Recently, to meet low-income people's demand for low-cost housing, the Ho Chi Minh City People's Committee has approved a project under which the Housing Development Funds in districts of 12 and Binh Tan are entrusted with two plots of land with a total area of nearly 13 hectares to build apartment buildings for low-income people.

The buildings will have between 12 and 20 stories, with the total number of apartments at 2,600. The estimated prices of these apartments are expected to range from VND 350 to VND 375 million each – quite reasonable for low-income people.

The total investment capital for the project is VND 1,300 billion, mostly to be mobilized from various sources.

The project is scheduled to start in early 2009.