Ho Chi Minh City leaders on Thursday visited and presented gifts for Tet to residents in the Thanh An Commune of Can Gio District, who lost their houses and property during typhoon Durian.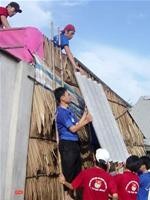 Volunteer students of the HCMC Technology University help rebuild houses for residents of Thanh An Commune in Can Gio District after typhoon Durian hit the area (Photo: Tuoi Tre)

The City's party chief, Le Thanh Hai, expressed his sympathy to local residents and suggested that they should work closely with local authorities to learn more about vocational and capital assistance programs.
He pointed out that the best way to escape poverty is to provide stable jobs and improve education.

The Chairman of the Can Gio District People's Committee told to party chief that it will give aid in the form of funds and other resources to poor families. The district has received over VND15.5 billion so far from philanthropists, he added.

Mr. Hai asked local leaders to do a good job making preparations for the upcoming Tet holiday and said the city will provide VND500 million from its budget for a fireworks display on the Lunar New Year's Eve for locals.

"City leaders will convene less meetings to save time for aid tours like this", he said.

Answering local leaders' proposals about the prevention of natural disasters, HCMC party chief said he agreed with an idea to relocate some 1,400 seaside households.

He promised that the city will invest in technical infrastructure and provide long-term credit loans to local residents for housing. He added, however, that the district should provide jobs to poor people first.

On the same day, the Chairman of the HCMC People's Committee, Le Hoang Quan, paid a visit to the Chinese community in District 6 and presented gifts for Tet to poor residents there.