Le Thanh Hai, secretary of the City Party Committee and Le Hoang Quan, chairman of the City People's Committee chaired a meeting in Ho Chi Minh City yesterday between leaders and businesses to address and resolve various issues.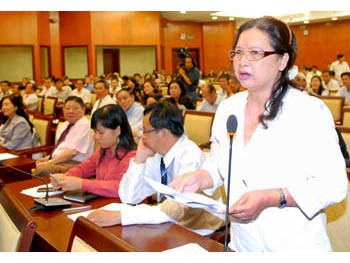 A garment entrepreneur presenting her petition to HCMC leaders at the meeting (Photo: SGGP)
Chairman Quan expressed that it was very difficult to meet economic targets in the second half of the year if the city didn't resolve the problems faced by the business people, matters such as taxation and capital concerns. He thus asked all the businesses present, to put forward their issues and concerns.
According to Huynh Van Minh, chairman of the City Business Association, about 35-40 percent of medium and small companies in the country have gone bankrupt.
Several garment and real estate companies have reduced production and trade and are on the verge of shutting down.  Minh proposed to the city authorities to find urgent measures to help affected businesses.
Huynh Van Hanh, deputy chairman of the Handicraft and Wood Industry Association said the association has about 360 members of which most face poor production and trade caused by tough competition by countries producing similar items.
In addition, businesses have borrowed at high interest rates of up to 25 percent compared to a mere 2-4 percent in other countries.  The prices of raw materials have also increased by 16-30 percent.
Ly Kim Chi, deputy chairwoman of the city Food and Foodstuff Association said that medium and small businesses face obstacles in accessing bank loans. The city should thus build a sponsorship mechanism suitably to product and industry.
The price stabilization program has yielded positive effects but however, prices should be more flexible to fluctuating costs, she said.
Other businesses proposed that ministries and departments must reduce business income tax and extend the pay back time-limit of valued added tax without interest.
Chairman Quan pledged that the city authorities would do their best to resolve the issues stated by the businesses.
Mr. Le Thanh Hai said that all petitions would be gathered and appropriately transferred to the right authorities for further action.
Related article:
Young entrepreneurs discuss woes in seminar