Ho Chi Minh City businesses have invested nearly VND264,000 billion from 2001 to now in 23 industrial zones and over 1,000 projects in thirteen Mekong Delta Provinces.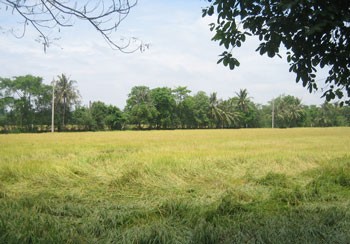 Rice production is one of the Mekong Delta region's strong points.
This figure was announced by the Ho Chi Minh City People's Committee at a conference of Ho Chi Minh City with 13 Mekong Delta Provinces in Vinh Long Province on November 26.
Project investments cover areas in agriculture, industry, aquaculture, traffic, urban infrastructure, trade, services and tourism.
Nguyen Phong Quang, Deputy Head of Southwest Standing Steering Committee, said the Mekong Delta has a stronghold in rice production, aquatic products, fruits, vegetables and breeding. Ho Chi Minh City is one of the largest consumer markets in the country for the region's products. Mekong Delta enterprises wish to cooperate with the City for a stable market.
Le Hoang Quan, Chairman of Ho Chi Minh City People's Committee, acknowledged the cooperation between the City and Mekong Delta Provinces in aspects of economy, politics, culture and society.
The City authorities in future plan to create more advantages for enterprises to boost cooperation and investment in the Mekong Delta, and develop the region into a large-scale material area.
Relevant departments will also strengthen their roles and responsibilities in helping and solving problems arising from this cooperation.