Ho Chi Minh City's Gross Domestic Product (GDP) growth rate is likely to reach 11-12 percent this year thanks to its continued high economic growth during the first eight months.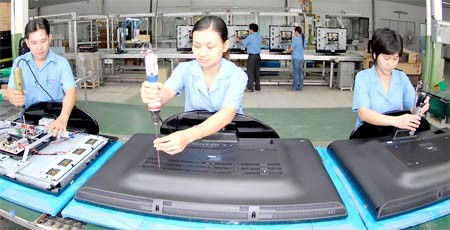 Workers make LCD televisions at Viettronics Tan Binh Joint Stock Company in Ho Chi Minh City (Photo: SGGP)
The statement was agreed to by participants at the city People's Committee meeting on August 25 to review the socio-economic performance in August and the first eight months and sum up experience in management.
The committee said services, retail sales, agricultural and industrial production values registered rather high increases in the period.
Thai Van Re, director of the city's Department of Planning and Investment, said the city will continue to play a leading role in the nation's economic development.
Proving the statement, he said the value of industrial production, which makes an important contribution to the GDP growth, saw a year-on-year rise of 13.8 percent in the first eight months.
It was 0.1 percent higher than the nation's average industrial production value, while it had been always lower for many years, he added.
So far, the city has licensed 233 foreign direct investment (FDI) projects, worth total US$1.3 billion, accounting for 35 percent of FDI projects in the country.
He said investment in trade and capital construction soared by 17.5 and 27.8 percent respectively over the same period of last year.
Du Quang Nam, head of the city Statistics Department, said the city's consumer price index (CPI) fell by 0.25 percent in August thanks to a decrease in prices of foods, goods, postal service and other services.
Nguyen Thanh Tai, permanent vice chairman of the city's People Committee, said the city experienced the high growth rate because it implemented social welfare polices well, especially the program to stabilize prices of staple goods.  
City chairman Le Hoang Quan said HCMC's economy recovered rapidly in 2010 after two years facing difficulties.
However, he said, agencies and committees shouldn't be so satisfied with the achievements, but they need to focus more on developing the economy in the last four months.
At the meeting, the committee also made plans for the remaining months, including keeping stabilizing consumer prices, promoting trade, seeking and expanding export market, developing local market, and simplifying administrative procedures.
Chairman Quan said the city will prioritize investment into road projects till the end of this year.
He also ordered related authorities to speed up relocation of residents living on and along canals in districts 4, 6, 11 and Binh Thanh.