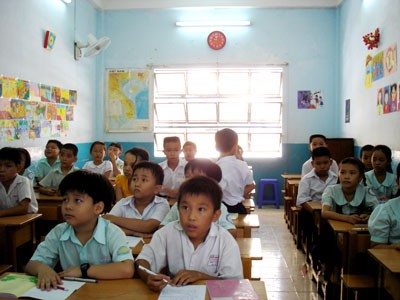 Ho Chi Minh is facing a critical gender imbalance with sex ratio of 115 boys/ 100 girls ( Photo: VH)
The Ho Chi Minh City Office for Population and Family Planning held a meeting July 3 to celebrate World Population Day (July 11) and to praise excellent officers.
A total of 120 outstanding demographic specialists, as well as freelance officers, were awarded with a city-level certificate of merit and 14 specialists with a national one.
In regard to the city, the population is currently just over 6.3 million.
According to the office, the city's birth rate, compared to 2008, has decreased by 4.8 percent - more than 1300 babies, and the number of third-child births has decreased by 0.8 percent - more than 240 babies.
The drop in birth rates appears to have led to an increase in sex ratio, from 110 boys per 100 girls in 2008 to 115 boys per 100 girls.
Officials are concerned by the future social problems that such a ratio entails.
To amend the alarming situation, the Ministry of Public Health has intensified inspections of obstetric services to avoid parents being told of their babies' gender, as well as prohibiting published instructions on how to choose babies' gender.