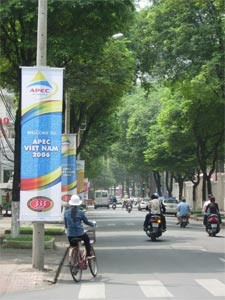 Ho Chi Minh City welcomes APEC (Photo: H.Uy)

The 14th Asia-Pacific Economic Cooperation (APEC) opening ceremony is approaching. Sai Gon Giai Phong talks with Vice Chairman of the Ho Chi Minh City People's Committee Nguyen Thanh Tai about the city's preparation for the event.


Is Ho Chi Minh City now ready to welcome APEC and its foreign delegations?


The 14th APEC is an outstanding event for Viet Nam this year. We will welcome many foreign senior officials and reporters who would visit the city and seek for investment opportunities.
Just like the second Senior Officials Meeting and the APEC Meeting of Ministers Responsible for Trade held in HCMC, this APEC summit is a chance to introduce a dynamic and fast-growing Viet Nam, a safe and hospitable travel destination with many traditional cultural features.
Thus far all protocol, logistics, security and cultural activities have been well-prepared to welcome the summit.
Could you please be more specific?
Besides accommodation for foreign delegations, the city makes all arrangements for security and order and urban beauty on the main routes and the city center.
The People's Committee has ordered relevant sectors to upgrade key roads from Tan Son Nhat International Airport and the central districts.
The city has repaired many roads and decorated the streets with posters and flowers.
Companies and agencies have prepared information and documents about investment in and cooperation with Ho Chi Minh City to introduce to international visitors.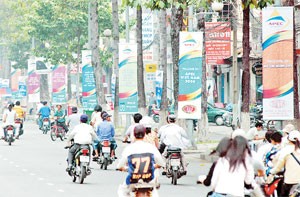 APEC posters can be seen everywhere in the streets of Ho Chi Minh City
Could you please tell more about art performance programs the city has made for this occasion?

We have assigned a troupe of some 100 actors and actresses to Ha Noi for art performance.

Besides, Tao Dan Cultural Park will offer art programs every night from Oct 5 to 20; the cultural and sport department has prepared many traditional art programs for APEC.

Notably, there will be an exhibition of sand painting collection displaying 21 APEC leaders' portraits by Y Lan and all the paintings will be offered as souvenirs to them.

How can every city dweller be fully aware of their responsibilities for such significant event to promote Viet Nam?

The APEC summit is a chance to promote Viet Nam, that's true. The mass media has talked much about APEC those days. Viet Nam should further educate the populace so that they could be fully aware of their country's role in this world's leading economic forum and the position of Viet Nam in the international arena.

Thus, every citizen should act as an ambassador of Viet Nam with their elegant, hospitable and helpful manner.

I hope that the city will make a good impression on international friends.