The Ho Chi Minh City People's Council met face-to-face with residents of District 1 on Sunday to hear their opinions on and suggestions for developing the commercial hub of the city.
Council chairwoman Pham Phuong Thao said caution should be the watchword in deciding the positions of new hi-rise buildings so that they would not hide or overwhelm the city's historical buildings, and stressed the importance of having distinguishing features in new buildings so that they didn't just look like boxes side by side.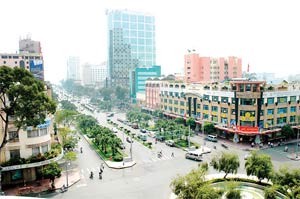 The intersection of Nguyen Hue and Le Loi in the heart of District 1 (Photo: SGGP)
She added that electricity and telephone cables needed to be put underground and that building projects had to be carried out completely and with a minimal impact on the local residents.
District 1 chairman Le Minh Tri said a detailed development plan was needed as soon as possible for the core of District 1, which encompasses Ben Thanh, Ben Nghe and Nguyen Thai Binh wards and such landmarks as City Hall, the Opera House, Ben Thanh Market and September 23 Park.
Mr. Tri and the councilors noted down the residents' questions, opinions and suggestions and will forward them to the Ho Chi Minh City People's Committee to think over before a development plan is drafted. Many of the questions from the locals were answered on the spot.
Besides the face-to-face encounters, the public made over 100 calls on special phone numbers set up for the occasion, often to ask about resettling District 1 residents affected by new building projects.
Mr. Nguyen Van Dua, the city's standing deputy Party chief, answered that long-time residents who were registered would be resettled according to the prevailing guidelines.
The councilors also answered a host of questions about delayed development projects and the problems caused by these delays.
Ho Chi Minh City Television broadcast the entire proceedings live.