Le Hoang Quan, chairman of the Ho Chi Minh City People's Committee and leaders from various other city departments visited Quang Trung Software City on Thursday, February 2.
In 2011, Quang Trung Software City (QTSC) successfully became a single entity after merging its member companies and surpassed all goals and targets set by city leaders.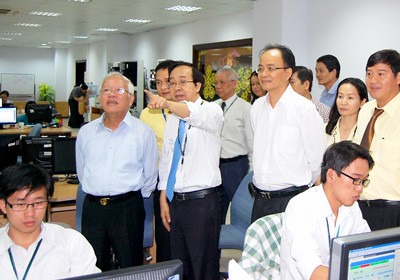 Chairman Le Hoang Quan(1, L) visits Global Cyber soft in Quang Trung Software City
All the member companies of QTSC have overcome challenges posed by the world economic crisis and recent domestic financial difficulties, to gain a 20 per cent growth over 2010, the highest in recent years.
Chairman Quan congratulated the member companies of Quang Trung Software City for their bold initiatives and subsequent achievements, with QTSC having grown rapidly into a leading software park in Vietnam.
Established on 16 March 2001, QTSC officially began operations in District 12 with 21 businesses and 250 workers.
Within ten years, QTSC has become the leading software park, attracting investments from 101 information technology companies, of which 43 are foreign companies and 58 domestic companies. At present there are 23,859 employees working in QTSC.
On the same day, QTSC welcomed the 102nd member of the HP Group, a multinational company, into its fold.
Chairman Quan recognized the efforts of the workers, engineers and authorities of the software city in sustaining an excellent growth rate by applying new technologies, to become the top Software City in the country.
He also instructed companies to concentrate on building QTSC into a prestigious high-tech model platform for the rest of the nation to replicate and encouraged production of low cost soft ware for domestic consumption and gradually replace imported brands.

He added that QTSC must play an important role in helping the city reach its socio-economic targets for 2012 and implement the economic restructuring plan.
He urged QTSC to recommend to relevant authorities to apply policies to support the development of computer science in HCMC as well as introduce international cooperation in training of information and communication technology employees for Vietnam.
The delegation also visited and interacted with some member companies of Software City, asking them to do their best to fulfill the tasks set for 2012, so as to help the city achieve industrialization and modernization.