Ho Chi Minh City plans to expand and replace its present fleet of buses during the period 2011-2013, according to Le Hoang Quan, chairman of the People's Committee of Ho Chi Minh City.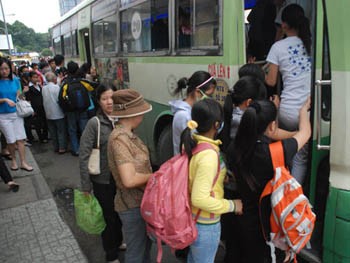 HCMC plans to replace old buses (Photo: nguoilaodong)
Chairman Quan has asked the Department of Transport to clarify the present status of the existing fleet of buses in the city to allow for a replacement plan during the period 2011-2013.
As per the new plan, the city will spend VND1.9 trillion (US$904 million) to replace 1,680 old buses by 2013.
The new buses will have to meet certain standards like height, seating capacity and suitability for the city roads. Additionally, they must meet Euro III standards on exhaust emissions or run on compressed natural gas (CNG).
Related articles:
Lukewarm response to bus campaign
HCMC encourages commuting by bus