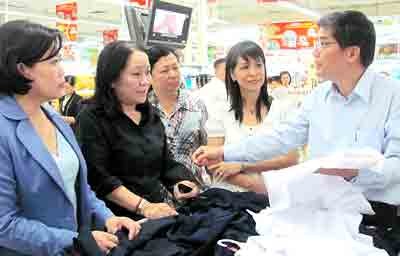 Nguyen Van Dua (R) expressing satisfaction in quality, design and price of stabilized study items
Nguyen Van Dua, Deputy Secretary of the HCMC Party Committee and Ms. Nguyen Thi Hong, Deputy Chairwoman of HCMC People's Committee yesterday conducted a surprise inspection of five stores participating in the government price-stabilization program in the city, on study items like pens and notebooks.
Fahasa bookstore was the first stop for the inspection team where they found that study items were poorly displayed.
At the Nguyen Dinh Chieu Street Coop-Mart, many items were spread in various different sections and products in Mr. Vui, Hami, Sanding and other Co. op supermarkets offered little choice to customers.
Nguyen Thi Thanh Thy, a customer at the Nguyen Dinh Chieu Street Coop-Mart said she decided to buy price stabilized items after she had checked market prices and found prices of study items were cheaper than in the market by 15 to 30 percent.
However, Bui Hanh Thu, deputy director of the Saigon Co-op Mart supermarket plans to further reduce 20 percent on goods from July 31, as despite stores advertising aggressively with big banners outside their stores, sales continued to remain poor.
After the inspections, Dua praised the efforts of all relevant agencies in implementing the stabilization program for the coming academic year 2011-2012.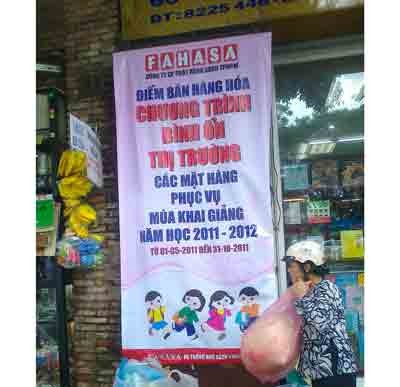 Banner advertisement in front of Fahasa bookstore (Photo: U.Phuong)
He ordered concerned stores to exhibit more items prominently so customers are attracted to them as well as have a wider choice.
He also asked agencies to look into the Fahasa dealings to check whether it actually did not display the commodities in its bookstore or whether it had refused to receive the items altogether.