The Chinese Consul General in Ho Chi Minh City, Xu Ming Liang, visited the Sai Gon Giai Phong Newspaper office on January 26, to wish all a very happy new year.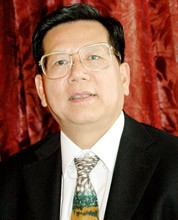 The Chinese Consul General in Ho Chi Minh City Xu Ming Liang.
Mr. Xu Ming Liang hoped SGGP to continue to play the role of bridge between the government and the people and to strengthen relationships between the two, particularly amongst the southern provinces of Vietnam and the Chinese provinces.
He affirmed that China was always interested in the economic development of Vietnam and to promote further investments in Vietnam. He believed that Vietnam had successfully implemented its poverty reduction plans and China needed to learn more from Vietnam.
Mr. Xu Minh Liang reads SGGP's Vietnamese and Chinese editions everyday, since the last 11 years.
SGGP Editor-in-Chief, Tran The Tuyen expressed his deep appreciation for Mr. Xu Minh Liang's kind sentiments for SGGP. He also briefed the Consul General on the formation and development of the SGGP.
Although SGGP is the official organ of the Party Committee of the Communist Party of Viet Nam in Ho Chi Minh City, it has updated information from all over the country which contributes to the party's decision making policies for the people by understanding people's thoughts and aspirations.
In addition, SGGP is the only newspaper in the country to launch a Chinese language publication. This publication not only serves the Chinese origined people in Ho Chi Minh City but also serves Chinese companies in Vietnam.
Mr. Tuyen also stated that SGGP would always try to strengthen the relationship between the people of both the countries.