Commuters found the traffic conditions a bit chaotic on the first day of opening of the Thu Thiem Tunnel on Monday, with frequent jams occurring as people tried to familiarize with the new travel regulations.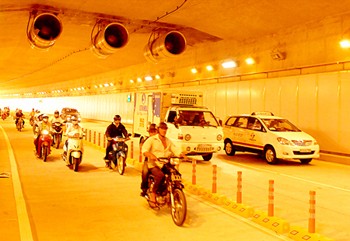 Vehicles ply through Thu Thiem Tunnel on November 21 (Photo: SGGP)
Thu Thiem Tunnel opened to traffic at 6am Monday, but since early morning hundreds of motorcycles and automobiles were found waiting in queue at both entrances of the tunnel. Many turned back and tried to find another exit route to District 1.
The former and familiar route to travel to the city center via District 2 after turning left into Pho Duc Chinh Street from East West Highway, has been blocked ever since Thu Thiem Tunnel opened. Traffic has thus become even more disorderly.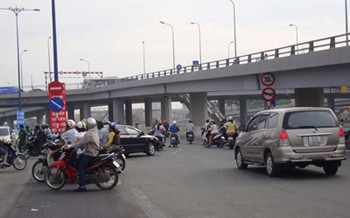 Traffic is a bit chaotic outside Thu Thiem Tunnel (Photo: SGGP)
Some residents stopped to look at the new tunnel. Traffic guides had to work hard to instruct vehicles and prevent drivers from making a U-turn in front of the Thu Thiem Tunnel as soon as they realized they had gone through the crossroad to turn into Ky Con Street.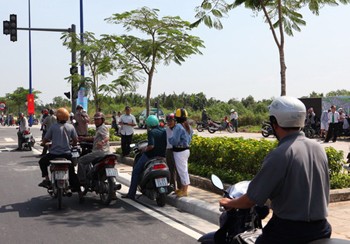 People stop to view Thu Thiem Tunnel (Photo: SGGP)
Some lamented that the loudspeakers, installed close to the tunnel entrances to inform of traffic regulations, were disturbing to drivers.
The motorcycle lanes were crowded since 8am but several people still stood around to film and take photographs.
 
A woman fell as her motorcycle hit a road divider inside the tunnel, which caused the traffic to come to a standstill for a couple of minutes. Another man's motorcycle broke down inside the tunnel.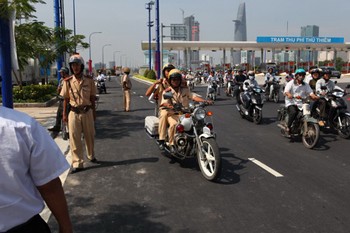 Traffic police struggle to maintain order (Photo: SGGP)
Most people didn't wear helmet ear muffs as advised by the Thu Thiem Tunnel Management Center.
Thu Thiem Tunnel is open 24/7 for buses and cars but limits motorcycles from 6am-9pm.