Heartbeat Vietnam and VAA The Fund have announced an upcoming charity photo exhibition featuring an intimate look at the lives of 14 of Vietnam's top celebrities.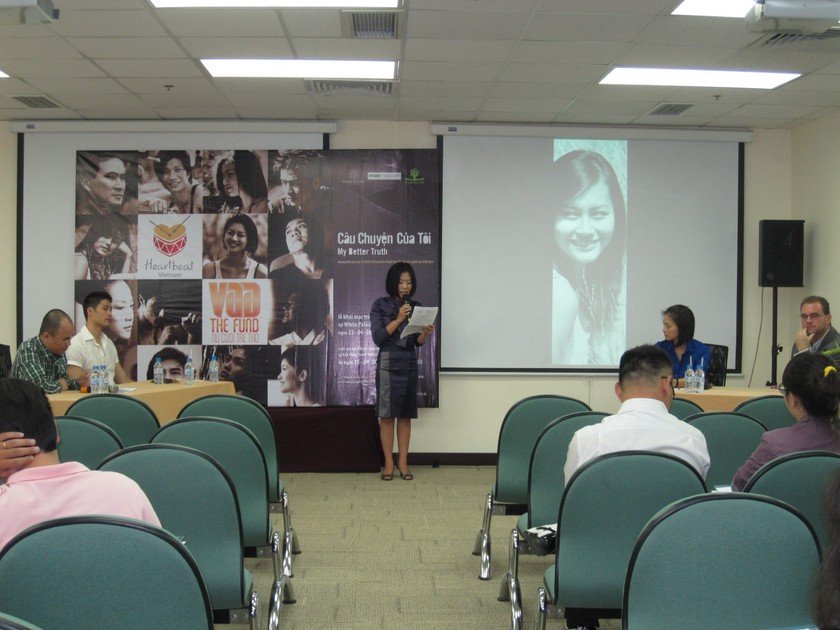 Actors Ngo Thanh Van and Johnny Tri Nguyen at the press conference on April 12 ( Photo:Courtesy of VinaCapital)
The public exhibition, titled "Cau Chuyen Cua Toi" (My Better Truth), will run from April 25-27 at the Ho Chi Minh City Museum.

The event aims to increase awareness about child heart disease in Vietnam, with all funds raised from the sale of the photos going toward life-saving heart operations for poor children with congenital heart defects.
The black-tie launch party will feature photos and appearances by noted celebrities such as Ngo Thanh Van, Johnny Tri Nguyen, Chi Bao, Dam Vinh Hung, Quang Dung, Dustin Nguyen, Ho Nhung, Linh Nga, and Thanh Thao. Dancer Linh Nga and singer Dam Vinh Hung will also perform at the event.
In addition, a live auction will take place for one-of-a-kind celebrity photographs of Dam Vinh Hung, Thanh Loc, and Linh Nga; a day with Ngo Thanh Van and Johnny Tri Nguyen; a lucky SIM card; and a special photo to be revealed at the event.
Heartbeat Vietnam, a program of the VinaCapital Foundation (VCF), has provided almost 1,400 life-saving heart operations since 2006 for children across Vietnam, as well as helping to improve cardiac and pediatric care in Vietnam via a telemedicine training series, equipment donations, and support for provincial-level pediatric outreach centers.

Donations made to Heartbeat Vietnam are matched 100 percent by the VinaCapital Group, which also covers 100 percent of VCF's overhead costs so that all funds directly support program work.
"We are proud to have the wonderful and generous support of Ngo Thanh Van, Johnny Tri Nguyen, Dam Vinh Hung, and all the other celebrities involved in this project," said Ms. Robin King Austin, CEO and Executive Director of VCF.
"Van and Johnny have personally supported the surgeries of 12 children, and all the celebrities have put their own hearts, time, and resources into helping us save the lives of precious Vietnamese children. We are so thankful for their dedication and big hearts!"
VAA The Fund is a charitable foundation established in 2007 by Ngo Thanh Van with the Vietnam Artists Agency (VAA) as the main donor. The fund has raised over US$200,000 and counting, and has organized many successful and well-publicized charity programs, including the building of houses for the homeless and schools in the northern province of Tra Vinh.
Fund organizers also hosted the music concert "Sai Gon Night" on August 3 2009, with all profits going to the Ho Chi Minh Cancer & Tumor Hospital.