Can Gio, the poorest district in Ho Chi Minh City, has seen big changes recently, including the new 36-kilometer asphalt Sac Road, which goes through jungles to connect the district to HCMC.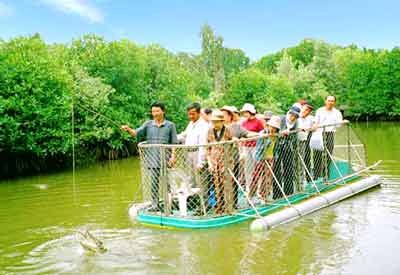 Visitors enjoy fishing crocodile in Can Gio (Photo: SGGP)
Can Gio is home to 42 plant species including 36 orders and 24 families, 700 aquatic invertebrate fauna species, 137 species of fish, 130 species of bird, 44 terrestrial vertebrate fauna species and 11 species of reptile listed in the Red Book, including saltwater crocodiles, monitor lizards and cobras.
Efforts by the government and people of Can Gio district to protect its mangrove biosphere reserve received a tremendous boost in January of 200, when UNESCO recognized it as the first World Biosphere Reserve in Vietnam.
The mangrove biosphere reserve has been an impetus to the socioeconomic growth and residents' living.
With 20 kilometers of coastline, the district has an advantage in attracting beach tourists; however, its tourism sector is like a sleeping princess and it attracts very few tourists, who tend to stay there only on weekends. To develop its potential, the government will construct the Lam Vien – Dong Dinh Road to be as beautiful as roads like Ha Long Road in Vung Tau, which is a tourist harbour.
The main economic activities are agriculture, fisheries, aquaculture and salt production. Recently people there have applied technologies to breed shrimp and make white salt instead of traditional black salt.
The government has opted to make aquatic products the district's chief sector for the upcoming period, to improve the lives of farmers.