The standard bus fare in Ho Chi Minh City should be raised from VND2,339 to VND2,773 next year, an official from the Department of Transport and Public Works told the HCMC People's Committee yesterday.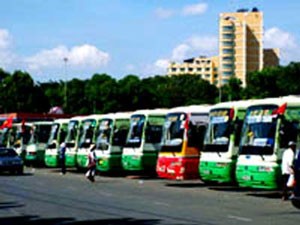 Buses in Ho Chi Minh City
Committee vice chairman Nguyen Huu Tin pointed out that the city was subsidizing bus travel to the tune of VND600 billion (US$37.5 million) a year, so the department's proposed fare hike was reasonable.

However, he said, the department should think the matter through carefully before setting its decision in concrete.

The transport official added that 20 bus routes would be tendered out in the hope of increasing the efficiency of public transport.

He also reported various shortcomings like poor customer service, weak management, reckless bus drivers, the lack of bus stops and the fact that more than a thousand minibuses still in use were seriously outdated.

Vice chairman Tin replied that the transport department must put an end to the overlapping of bus routes and replace the outmoded minibuses before the end of 2008.

To boost revenue and ease the subsidy pressure, he said the People's Committee would consider allowing advertising on the city's buses.